Sint Maarten (but not St Martin)

Tamarisk
Wed 26 Apr 2006 23:03
This is the island that is divided into French and Dutch halves. The story is that rather than fight over the island, a Frenchman armed with a bottle of wine was sent to walk round in one direction and a Dutchman equipped with a flask of gin went in the other. Where they met became the East/West boundary. The French ended up with a bit more because the gin was stronger than the wine. Now the island has, according to the pilot book, 'embraced tourism wholeheartedly with casinos, condominiums and scores of hotels'. And it shows. It was a real shock after St Kitts. The airport, which is close to Simpson Bay, where we moored, was in constant action. The roads were full of big American cars and lined with supermarkets, liquor stores and restaurants. It felt as though, in one day's sail, we'd moved from Porto Santo to Florida.
Everything is duty free and a lot of yachts come here to provision. (The pilot book calls the island 'the Caribbean's number one shopping mall'). We bought all our reserve fuel for the trip to Bermuda plus water and beer. There are also some good chandleries and we got a few more pre-ocean jobs done. We didn't get to the French half at all. And, to be fair, some people say that is pretty nice. After one night anchored in the lagoon and a couple in the marina, we set off with our friends on Wild Alliance to do the 80-odd miles to the BVIs overnight. Our first overnight since the ARC.
Tamarisk in the Simpson Bay Yacht Club Marina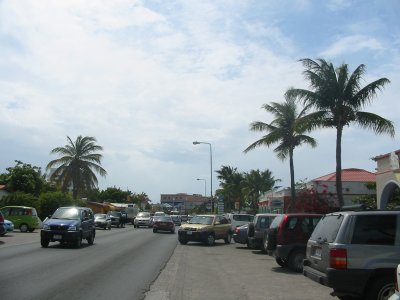 SUVs 'r' US. The road behind the marina.
Anna with Hannah from Aromatic at the poolside bar in Jimbo's - the marina bar
Here to save a couple of dollars on a case of Red Stripe, presumably...
Wild Alliance in the lagoon anchorage
Heading out of the lagoon for our overnight to the BVIs
---