Having Fun in Antigua

Tamarisk
Wed 22 Mar 2006 20:08
We're in a great spot in Nelson's Dockyard, and with so many friends around we've been having plenty of fun...
Tamarisk is at the end of the yachts.
On Alice's birthday Keoma was all dressed up for the party..
Children from Blase, Coconut, Wild Alliance, Aromatic, Regina and Koshlong listen as Juliet reveals the anwers to her quiz..
Then it was time for birthday cake...
Stuck in the mud...
and some appropriate naval combat.
The next day we all met on Pigeon Beach which is round the corner in Falmouth Harbour. This time the Dad's got involved in the battle...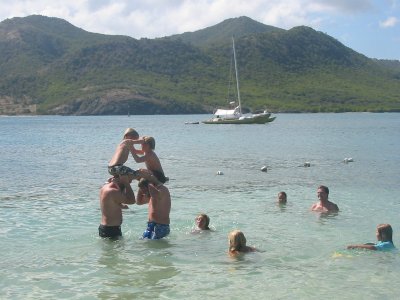 This is Tim and Eddie versus Trond and Colin from Coconut. And as the sun began to set a horse swam by...
Later that night the grown ups all took to the bar to see in Juliet's birthday, the children decided to try to work one of the Dockyard capstans...these were used to pull large ships on their sides to clean off the barnacles...I'm not sure they'd seen much action since Nelson's time. Eddie, Pip and Mary choose to encourage the others by dancing on the top...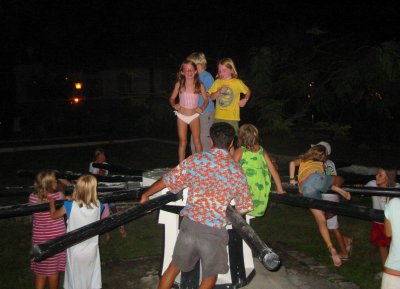 Next day a group of us went on a Wild Alliance cruise. Jon and Viv kindly invited us to join them on a trip to Cades reef five miles up the coast. Wild Alliance is a Formosa 51, compared to Tamarisk she's like a ship, plenty of room for the children on deck.....
...and the ladies in the cockpit.
It was quite a tricky horse shoe shaped reef to negotiate, but we anchored right in the middle.
The dark line is the reef, in the background is Montserrat, smoking away.
It wasn't long before the children were organising some halyard swinging.
Anna takes a dive...
After lunch we all went snorkelling on the reef. There were lots of fish, including some baracudas that made themselves scarce pretty quickly. And by sunset we were back in the harbour.
We will stay in Nelson's Dockyard to get some more jobs done. Our windlass (gets the anchor up) needs a new bearing, and there are quite a few electrical problems to sort out. The sea and sun means the sail cover and spray hood are slowly giving way, so we need to get out the heavy duty sewing kit. Anna seems to have found herself a job helping in the dockyard cafe and is picking up tips from American tourists. Eddie has made some new friends in the bay. Our next plan is to head for St Kitts by the end of next week.
---