More Antigua Pictures

Tamarisk
Sat 1 Apr 2006 17:51
We're still in Antigua but planning to leave English Harbour this afternoon - after two weeks. The parts we need for the windlass and the engine fire extinguisher have still not arrived but we've got both working. We plan to go round the corner to Falmouth Harbour this afternoon and maybe spend a couple of days exploring other bits of Antigua before coming back here in search of the parts next Wednesday. From Antigua, we still plan to go to Nevis. We've given the boat a deep clean - even varnished odd bits - and she feels in pretty good shape. English Harbour is very pleasant but everywhere has its' 'go-by' date.
English Harbour with Falmouth Harbour in the background from Shirley Heights. Nelson's Dockyard, where we've been moored, is pretty much dead centre.
It was a long walk to Shirley Heights and back.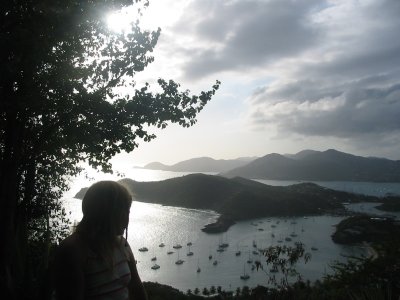 We stayed for sundown but it was a bit cloudy
Even if Eddie was a bit underwhelmed, the rest of us enjoyed the band
Anna and and her first employer - Denise, the manager of the Dockyard Coffee Shop
Anna prefers serving tables to washing up
We'll all miss Denise - one of the friendliest faces in a very friendly place
---