Tobermory

Chiscos
Chris & Helen King
Mon 5 Jul 2021 16:56
56:37.190N 6:3.735W
Monday 5th July
Up at the crack of dawn today to leave for Tobermory on the Isle of Mull. Left Craobh Marina at 6.30am with drizzle and little or no wind, so it was a motor all the way. Negotiated Cuan Sound at slack tide (a narrow stretch of water between Torsa, Seil and Luing Islands). Can be tricky with weird tidal swirls, but not today with calm weather and neap tides. Saw a couple of porpoises on the approach, and seals chilling on the rocks.
Then north up the Firth of Lorn to the east of the Isle of Mull. Still very calm so I (Helen) made rock cakes and brewed 'real' coffee for elevenses.
We continued around the Isle of Mull, eventually reaching our destination by lunchtime and picked up a visitors buoy. We had experienced intermittent light rain on the trip but just after we moored, the heavens opened. We had a bite of lunch and once the rain had eased, rowed the dinghy ashore to have a wander around the town.
A small local produce market was just shutting but we were in time to buy venision burgers for dinner, and some smoked trout
Tobermory Distillery shop was open (although they are not doing tours at the moment because of Covid), and we purchased a couple of tasting bottles of their two main whiskies to add to our collection.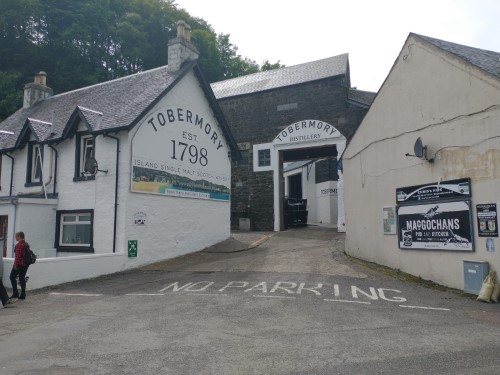 Then it poured with rain again so we hid in the pub until it stopped!
---