Salen

Chiscos
Chris & Helen King
Wed 7 Jul 2021 16:46
56:42.735N 5:46.657W
Tuesday 6th July
We stayed the day in Tobermory. In the morning we went for a walk up to the lighthouse and then back along the golf course.
We did some shopping and then returned to Chiscos for lunch. Chris phoned the golf club and established that he could hire some clubs from the hardware shop in town, so he went back ashore to play 9 holes. Unfortunately the hardware shop was closing at 4pm which did not leave enough time to play and return the clubs :(
Wednesday 7th July
Set off late morning under sail in a light northwesterly wind headed across the sound of Mull and then 10 miles or so up Loch Sunart to Salen on the south side of the Ardnemurchan peninsula. Stunning scenery. We passed through the small gap between the islands of Risga and Eilean an Fleidh goose-winged.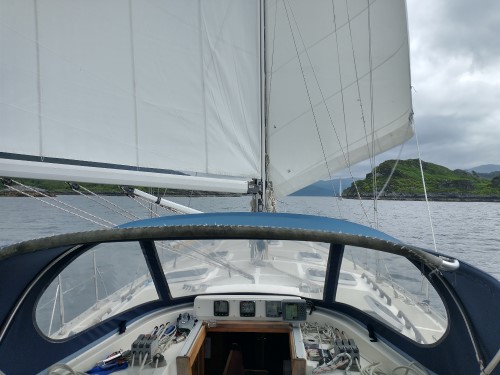 We had pre-booked a berth in the tiny marina with Jan, who met us with a map of local walking routes. We had a late lunch and set off on walk#1 through the oak woodland north of the bay. A lovely walk but the hilly path was overgrown in many places with bracken, heather and inconveniently prickly holly saplings. Glad we didn't wear shorts.
We returned to the boat for showers, dinner and the England football semifinal; no radio or TV signal here so will have to be via wifi, if the bandwidth will cope.
---