Oban days 2&3

Chiscos
Chris & Helen King
Thu 15 Jul 2021 18:10
Wednesday 14th July
So I (Helen) spent the entire morning having my hair done at a lovely salon in Oban. For lunch we got fanstastic take-away fish tacos (Haddock for Chris and king prawns for Me) from a pop up shop called the Fish Box. We then walked up Pulpit Hill in the afternoon for good views over the whole bay, including the North Pier pontoons where we are moored and the Oban Marina in the distance on the isle of Kerrera.
Thursday 15th July
We walked up to McCaig's Tower this morning. Good views over Oban.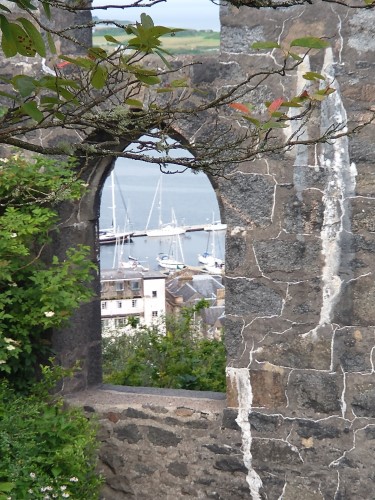 Then back down to the town for a bit more shopping. For lunch we went MacGillivray's Seafood takeaway for "fish" and chips - langoustines and scallops. Lovely! We are trying to avoid eating indoors now as we don't want to get pinged as as a Covid contact if we can help it.
After a short afternoon break we went to the Oban Distillery where we had booked a 1 hour whiskey tasting session. The distillery guide - Mike - was very informative and entertaining and the whiskies were very good. Great fun.
Then back to the boat to ditch the rubbish, fill the water tank and generally get ready to set off tomorrow. There are golf highlights to watch also.
---