Rathlin day 2

Chiscos
Chris & Helen King
Sat 26 Jun 2021 18:57
Rathlin Island is apparently the place where Robert the Bruce was inspired by a spider whilst hiding in cave. We needed no such inspiration to get up early and walk the 4.5 miles up to West Light Sea Bird Centre in order to beat the crowd from the ferry arriving on the first bus by an hour. On the way we heard the distinctive call of a corncrake but could not spot him. We were asked twice during the morning if we had heard the corncrake – obviously a big thing around here.
At West Light we had the place to ourselves. We saw Puffins, Fulmars, Guillemots, Razorbills and Kittiwakes, the latter two with chicks.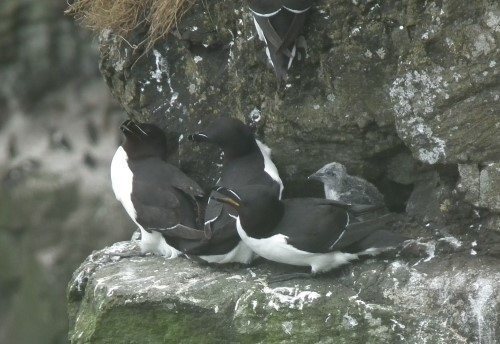 When the bus arrived, the "crowd" turned out to be about 5 strong. We hopped on the bus for the return to Church Bay. As we got back to the boat, our younger son Jamie video called from Sweden where he is enjoying a midsummer break and hour or so north of his home in Malmo. We are almost as far North as Malmo ourselves now.
Spent the afternoon listening to the T20 cricket and the Rugby Premiership final on the radio. Fish and chips supper.
---