The Azores High

Whitemeadow
Phil Pascoe
Thu 11 Jun 2009 10:31
38:31.84N 28:37.51W
Horta, Faial, The Azores – we made it.
The last 3 days of the passage was much of the same – positioned just Southwest of a low pressure system and keeping up with it, we had NW winds between 20 and 30 knots filling the genoa and pushing us East and ever closer to the Azores. The seas were lively, often with very big swells that would heel us severely, i.e. assorted missiles flying across the cabin and waves over the decks. It wasn't comfortable but it was a godsend for our progress under genoa only, as we continued to average about 5 knots. Eventually we got down to 130 miles to go and could start to think about when we would arrive and what we were looking forward to: Stopping. A shower, a restaurant meal, more than ONE beer, a good red wine, from a real glass. A walk. The list was pretty endless.
The food was also getting rather low and unexciting. After the black mouldy carrots expired, it was only spuds and onion for fresh veg, and whatever protein we could find in tins.
In some of the calmer weather I did manage to check out the problem with George, it proved to be a sheared bolt that connects the push-rod to the wheel/quadrant. It was then photographing it and sending to Robin who thankfully managed to source a replacement at Waypoint One in Plymouth.

During Pete's watch 11.00h to 02.00h on 3 June, the wind began to decrease, we had to run dead down wind which proved difficult for Maggie, so some manual helming came into play. At the end of the watch, we thought we could just make out the lights of the islands. Within half an hour they were quite clear – not as special as seeing the mountain on Pico appear in the middle of the Atlantic, but a very welcome sight nonetheless. The wind continued to decrease unfortunately, and we resorted to the engine when we had only 6 knots of wind and speeds dropping below 3 kn. The last bit, as always, dragged and seemed to take forever even with some motoring. We gradually gained our bearings and began to separate Faial from Pico – the first land for 16 days. The marina was pretty full, some of the ARC Europe boats had beaten us in, but they were bigger than us, and finally we rafted alongside a German boat we had seen in the BVIs. We've made it. Horta looked warm and welcoming, the clearing in process was painless (& free) – we're in Europe again. 1800 miles in 16.66 days, 600 miles of which was just under genoa, not bad going. Who would like a cold beer, or TWO!
Pics: Before and after treatment for the mouldy carrots. Pete and Maggie, the perfect couple. George's broken bolt. WM approaching Pico.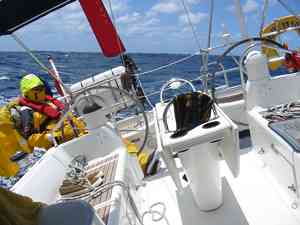 ---