Struggling North

Whitemeadow
Phil Pascoe
Fri 20 Mar 2009 22:42
15:17.57N 61:23.04W
Roseau, Dominica,.9 March
We had a long but comfortable day cruising up the west coast of Martinique, including a stop for lunch and a snorkel in Anse Chaudiere. We anchored near the jetty at St Pierre, managed a quick run ashore only to find the supermarket was virtually empty. The anchorage was pretty rolly and we didn't get a lot of sleep. As we left in the morning a catamaran anchored nearer the shore than us was in danger of getting swept ashore by an increasing swell. We were glad to leave and escape. After just over an hour we reached the top of the island to find 25 knots of NNE wind and a big swell – I decided to abort and return all the way to the capital, Fort de France. It's always frustrating to be going away from your destination when time is getting short, but there were few alternatives. We arrived in the middle of a protest march or Political rally (difficult to tell which) but found a comfortable anchorage just off the jetty, However, the town was dead, vegetable shopping was financially traumatic (for a Cornishman and a Kentish Maid) and the place had very little going for it. We bumped (almost literally) into Franc, the French Police motorcyclist we met in St. Lucia, as he had anchored about a boat length in front of us (plonker), and he didn't recommend going ashore at night because of the problems. The French Islands appear to be out of action this year.
Away early the next morning (6.40h) for the long haul up the west coast and hopefully over to Dominica. Another lively sail, but our new victims stuck it out until we made it to Roseau on Dominica after about nine hours. We were helped to an anchoring position off Dominica Marine Centre by a boat boy and had a very brief run ashore to check it out – not too developed. As the cruising guide says, if Columbus returned to the Caribbean, Dominica would be the only island he would recognize. The cruising guide uses a certain amount of poetic licence when describing some of the places and islands, most are definitely third world, with little maintenance of buildings or public land. The people though are generally welcoming in the poorer areas, and I don't think any of us have felt threatened when we wander through dodgy neighbourhoods.

Monday 9 March, we planned a day off on Dominica, partly because the wind direction was poor for heading North, but mainly because we had two Birthdays, both Paula and Pete reached major milestones. I won't mention a lady's age, but Pete was looking forward to some cheap bus travel. Presents and cards were received before breakfast as the Cruise ships came alongside the dock and spilled their rich 'contents' onto Dominica for the day – it's always more difficult to be a budget tourist when the cruise liners are in, as all the taxi drivers and shops think we are from the ship. However, for the local economies on these islands it's a necessary evil. I just wonder what cruise passengers think of some of the places where they disembark – pretty grim is an understatement.
We envisaged the big fry-ups they were having onboard the Liner, and just for a laugh I radioed them to say we had two Birthdays on Whitemeadow and could they manage an extra 5 people for breakfast. We did get a response and were told to check with security at the dockside. We wandered down to the ship but couldn't bluff our way through to talk to the ship's security officers; oh well, worth a try. After clearing customs ourselves, we had breakfast at a local café and then went to shop for provisions. Paula, Pete and I bussed to Soufriere at the southern end of the island and stretched our legs. In the evening we all ate out in Birthday style at the Fort Young Hotel, where we had a 3 course buffet for 87.50 EC (about £25) each. We naturally assumed buffet meant 'all you can eat', so we did! Some of it was less than perfect (e.g. the mushroom soup was abandoned by the three that tried it) but generally we had a good feast in pleasant surroundings. Happy Birthdays.

The next day it was time to move on, but not before trying to bus to Trafalgar Falls and Sulphur Springs while Ben and Charlie made their way North by bus with an arrangement to meet at the Purple Turtle in Prince Rupert Bay, Portsmouth in the evening. We made it to the falls, had a swim and returned to the boat in good time. Coming alongside a rather shaky jetty for fuel and water was slightly tricky, but all had gone smoothly until we were filling with water and diesel on the same side of the boat. The water fills faster than diesel and the inevitable happened, some water ran back along the side decks and into the fuel tank. How much was debatable, but water in a diesel tank can be disastrously expensive if it gets to the injector pump and engine. The Skipper was not a happy bunny. There was no simple answer, and no time to spare, so we set off and prayed we could at least reach Portsmouth safely. Still on the steep learning curve, although I feel I'm sliding back down the curve at the moment after a catalogue of basic errors and mishaps.
We picked up Ben and Charlie successfully apart from the outboard failing to go into gear, so Ben had a long row back to the boat. Not the best of days, let's hope tomorrow is better as we head up to the Saintes, the small French Islands south of Guadeloupe, which everyone says are worth visiting.
Pics: Birthday girl still in night attire, but wearing one of her presents (check out the left wrist). Sorry Pete pics of you were rather dark.
Trafalgar Falls, Dominica. Phil and Pete swimming in the falls.
Road building in Soufriere - would you fancy this job? Local flora.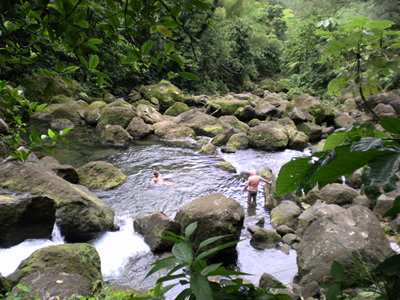 ---