Plymouth - Let's go

Whitemeadow
Phil Pascoe
Sat 8 Nov 2008 19:16
50:21.60N 04:07.15W
Well here we are at the start of the trip - a night in Plymouth Yacht Haven and the final preparations for departue on 17 Sept 2008.
As always, everything takes longer than expected and there are inevitably several things that we have forgotten, or rather I've forgotten or haven't had time to do. However, we need to make a start and sort them all out as we go. Ray and Paddy join Whitemeadow for the first leg, and possibly the toughest, from Plymouth to La Coruna in N. Spain, a distance of almost 500 miles. Fortunately after all the grim weather we've had in August, the forecast is for moderate NE winds so it should be a reasonable passage for 3 old men in a boat.
The Marina fees for one night in Yacht Haven were £36.60. Robbery - no offence Bobby - as you said that's very reasonable compared to the Solent. But as I told you, I hope that that will be the most expensive marina for the whole trip.
More soon, Phil.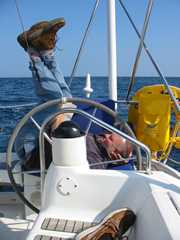 ---