Harbour Rot

Whitemeadow
Phil Pascoe
Thu 12 Feb 2009 18:37
13:51.20N 61:03.8W
Soufriere – 12 Feb 2009
Actually: Harbour Rot in Rodney Bay Marina
I have put the position of Soufriere, a town and interesting area near the Pitons, just to give a different point to Google Earth – it's a bit South of here and we intend to visit by bus either today or tomorrow. We have moderate harbor rot setting in at the moment as it is difficult to go anywhere by boat, as we have our forestay lashed up with a few pieces of rope whilst we wait for a new fitting. Hopefully, this will arrive by post from the UK in a few days. Thanks Pete S for sourcing and sending. It's not that easy to get very far by bus, as they don't often go to the tourist attractions, just the nearby villages. Walking in the middle of the day is exhausting, and the hire cars are pretty expensive. So here we are, stuck in the marina.
However, we are getting into St. Lucian and marina life gradually. Paula has found a few things worth buying in the supermarkets (see below) and now we have a functional fridge we have a reasonable supply of cold beer, and wine, and even ice cubes for the G & Ts. So you could say life is bearable.
Here is a taste of the daily grind of the Caribbean Sea Gypsy:
7.25 a.m. and I'm already at the laptop. Paula is reading and wittering already - she thinks they overuse the word 'paradise' here! They even label the maps of St. Lucia 'Paradise'! The Caribbean &/or St. Lucia only looks and feels like paradise when one is looking at tourist brochures during an English winter. The reality, unless you're going 5* all-inclusive, is not idyllic. But, the cunning Yachties, particularly if they have Cornish or Kentish genes, manage to engineer an almost agreeable lifestyle. For example, here's how one adapts to different food/drink, as availability and prices change. During a recent shopping expedition to the local Mall (don't get excited, it's smaller than Somerfield) we came back with some cans of tonic, and coke (Diet), two bottles of Chilean wine, Red and White (about £4.50 each, but drinkable), a litre of Pastis (not Cornish pastis, French, for about £5) and a bottle of St Lucian Rum (£5) and a couple of Aberdeen Angus steaks (£4/lb) and some salad items which generally are more expensive than steak. We had a very pleasant meal Chez Whitemeadow, and needless to say, most of the aforementioned bottles were sampled or finished, along with a DVD, of which we didn't see the end, due to droopy eyelids or was it the effects of ethyl alcohol on the parasympathetic nervous system? However, no hang-overs the following morning .
Paula's even given up on the idea of getting early parole, and might see it through until mid March.
Another recent addition to the Sea Gypsy life is SKYPE. Ben suggested we get hooked up as he plans to use it during his imminent travels with Charlie. They arrive here later this month, sail with us for 3 weeks then go on to S. America, Central America and Canada. Anyway, this has worked well so far and we have had animated conversations with Lucy, Peter & Lynne and Ben. If anyone out there has skype, let us know and we can talk. My skype name is plpascoe or search for Philip Pascoe. Paula is now hooked, so we may spend all day talking worldwide via the WWW instead of sailing. In fact we are not far from the 'virtual world' when we won't need to travel or sail. Just log on, and request: Caribbean, hot, humid and washing machine (slow spin) – and you're there. The only bit missing is the pain, the discomfort and most of the expense – now that's Paradise!
Keep in touch- it's tough out here in the sun
Cheers all, P & P
Pics: Soufriere & Pitons looking South; Soufriere looking North.
Drying & sorting Casava flour to make various cookies, e.g. with cinnamon, ginger etc.. I suggested adding cannabis (as if they didn't already).
Paula in the 'Office', wifi, internet, e-mails and now Skype - and still in that sexy nightie.
Diamond waterfall, seen one, seen 'em all.
Eve examining produce from the garden of Eden.
Morning repose - Caribbean research (James A Michener). Sorry about the stripes.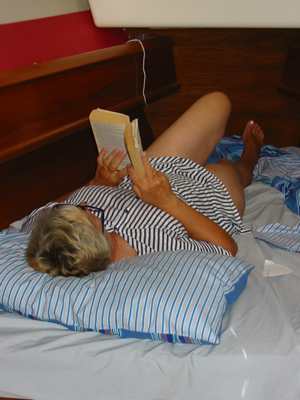 ---