Paradise Lost

Whitemeadow
Phil Pascoe
Tue 24 Feb 2009 16:29
14:04.48N 60:56.96W
23 Feb, Rodney Bay Marina (still)
I am pinching bits from recent e-mails to help with the blog:
Friday the 13th - I should have stayed in bed.
We've had a very frustrating, tiring and somewhat expensive day. This was idea number one to combat Harbour Rot. We need a break from the marina - the cost fo hire cars is prohibitively expensive (about £50/d), but understandable when you look at the state of the roads and the standard of driving. So let's look into hiring a motorbike or scooter. Not quite so bad at £20/d, so we did it, a bright red 125cc Yamaha. Firstly back to the marina (5 miles) to change shoes. Then we set off in the direction of Soufriere (ambitious), but at least hoping to do a Rum distillery tour and check out the Fish-Friday event at Amse la Raye. First stop was a detour up and then down the steep hills to get to the supermarket at Marigot Bay to replenish the Gin stocks (much cheaper here). We returned to the bike, and that's when our day turned into a bit of a nightmare, the main cause being a puncture in the back tyre. About half an hour was spent trying to contact the hire company (Wayne's), finding someone with a pump, and asking where the nearest tyre repair shop was. Wayne said it was our responsibility (They're so helpful in the Caribbean!), so we started walking with the bike up the 1 in 3 hill to the main road. A car full of young lads stopped to offer help – said they would lead us to the nearby tyre shop. Paula rode with them and I pushed on. Then I was stopped again with more offers to help. We tried pumping with some temporary success and I rode off quickly only to find Paula walking back. The tyre man was not in residence. Then the local Rasta, flagged down a pickup and arranged to take us and the bike to the next tyre shop. I hasten to add, that the tyre shops are nothing like anything in Europe! Anyway, they said they could do it, so the bike was unloaded and I gave the driver, a very well-spoken gentleman from Guyana, $EC 20 for his help. Then they set about taking the wheel off. Whoa, hold on I said. Can't you do it without removing the wheel (chain and brakes)? I wasn't happy with them dismantling a hired bike, as I might be liable for any damage. So this started a slight argument with the boss man, and some playing of the racism card. 'That's typical of you white guys, you don't trust us blacks to do the job'. We walked away with the bike. The young Rasta that was going to do the job, followed us to the junction in his clapped out pickup and said we should let him help us – rock and a hard place scenario. So we agreed that he could take us back to the bike shop near Castries. The old bloke that helped load and tie the bike down then wanted a back-hander – another 5EC. Paula in front with Rasta, me in the back with the bike. Back to Wayne's and the driver wanted EC$ 60 for his efforts. Wayne wasn't too pleased to see us with a dead bike, but eventually agreed on a part-refund, so we got 50EC back. So there we were, hot, hungry, and dirty, we didn't get to where we were going, it took half a day and about EC$120 (£33) to return to square one, still with the puncture.
Unfortunately we have no photographic evidence of this fiasco.
At the end of that day my feelings towards Caribbean life led me to 'pen' the following:
Just at the moment, I'm so cheesed off with St.Lucia, boat problems and expense, harbour rot, cruising, the Caribbean and the heat, that I'm tempted to jack it in for this year, leave the boat here and try again next year. You've no doubt heard about the strikes and problems in the French Caribbean Islands (Guadeloupe & Martinique) - it sounds like they've just about ground to a halt. If not resolved soon, our passage North might be rather more speedy and possibly less interesting than originally planned.
----------------------------------------------------------------------------------
Then there was the Double jaw toggle saga – Pete had kindly sourced the right fitting and sent it as an airmail parcel (as requested) last Friday, with a Post Office ETA of 5 days to St Lucia. Within minutes of hearing that it had been sent, I received news that they had one in Martinique – malheureusement (j'adore ce mot) trop tard mes amis. It would cost more to get it from the next Island anyway. When I mentioned to the local Chandler about having it sent from the UK, there was a lot of Cornish sucking of teeth, and muttering about the postal system here and was it addressed properly and if it didn't make Sunday's flight it could take 2 weeks. Panic! I checked with Pete, and as expected he had done everything possible to ensure a safe journey for our precious toggle.
One problem was that the post arrives at the marina late in the afternoon and they close at 5pm. Monday it hadn't arrived, Tuesday still no show, Wednesday, missed the office (see next farce below). Thursday morning, yes they had something for Whitemeadow – a yellow slip for me to take to Castries PO and sign for it. Bugger, what a pain. After some deliberation, as we had plans to meet someone, we set off fto collect it in Castries. We found the correct counter, and they eventually found the parcel (it was like 17th century outer-Mongolia), I signed and then was told I could collect it from Customs. The same girl took the packet to the other end of the PO and handed it to Customs. Wait your turn (the notice stated). Then I had to go through to the customs office and open the parcel in front of them and explain what it was. 'OK, you can go'. Yippee, I'm free (almost). I suppose it's not that different to the system in the UK, just a pain when you know what it is and the problems involved in getting it this far.
Back to our planned meeting, 20 mins late. In the afternoon I tried to phone the rigger, but no answer. So everything is in place, but still can't get it done, then it started to rain and the forecast for the next few days is for strong winds. Patience is a virtue, but mine is running out.
My philosophies after discovering the forestay problem and wrestling with why it happened, and when it happened and the possible consequences were as follows:
Lessons learnt?
1. It's worth having regular rigging checks and getting to know it intimately.
2. If something changes - find out why as soon as possible.
3. Go up the mast on a regular basis to prepare for when you really need to - it's not that bad!
4. Taking up religion may not be such a bad idea. Someone must be watching over us.
--------------------------------------------------------------------------------
Then there was the simple bus excursion to Soufriere.
Another frustrating day in Rodney Bay – a slightly delayed start (blame the internet) but we eventually set off on the 1A bus to Castries ($5), then change to the 3F (I think) to Soufriere ($16). Here we stopped for Tourist Information, which actually seemed quite productive until one discovers that the leaflets don't actually impart much useful information, just the bullshit without the price. Then a disappointing lunch at Camilla's (recommended in our cruising guide) – Paula tried the National dish, Green Figs and Salt Fish. The green figs are actually cooked green bananas and taste of cardboard, the fish was edible, but not plentiful. I stuck with the safe bet of a chicken Roti, but we agreed to swap half way through. My half of the chicken Roti contained reasonable meat with some bones, Paula's half contained 70% bones. Onwards via Bus 4F to Fond Doux ($3) a nearby organic Cocoa plantation, recently visited by Charlie & Camilla – HRH not the one from the local restaurant. Another disappointment as it seemed to rely on income from the bar, restaurant and shop, rather than putting on a decent display of cocoa processing as advertised. The Tet Paul nature walk was nearby, but too far to reach without a car, so we returned to Soufriere on the bus (EC$3), as we were told the buses stopped running back to Castries by 4pm. We met up with a French couple we saw earlier who were also returning to Castries. We all waited and asked, and waited, and checked, and waited and negotiated alternatives (boat, taxi) – running out of patience now. It transpired that it was half-day closing in Soufriere and the only method of getting back, that we were willing to afford, was to take a bus to the South of the island (Vieux Fort - $16) and then another back to Castries ($12) then another to Rodney Bay ($5). Taxis or boats to Castries were going to cost around US$100 (=EC$270). So, at the end of the day we had taken 7 buses, been virtually all round the island, achieved nothing, seen nothing (new), all for a simple visit to Soufriere.
That sums up life in the Caribbean, on a Cornish cruising budget.

My philosophies in one e-mail, in response to glasses being half full or half empty, went along the lines: A pessimist is an optimist with experience. One's views on the Caribbean tend to change daily. I don't think this is a good year as the 'natives' are revolting over high prices, and the £ is well down so we are revolting also. I think most Islands are OK if you're staying all-inclusive on a 4*+ resort, and never leave it. Otherwise you need to be a wily old sea-dog with a few years' experience, and have a boat that doesn't need fixing, and a healthier bank balance than mine.
If you've managed to read all that drivel, well done, full marks for stoicism. Enough for now, things should change as soon as the boat is fixed and our new 'victims' arrive. Next instalment from somewhere else I hope.
Pics: The offending Toggle. Sail repairs with the new haircut.
My view from the bus. Harbour Rot (reading matter and a litre of Rum for £6). Paula taking the pith - from a giant grapefruit.
Petit Piton from above (almost), and Gros Piton from below.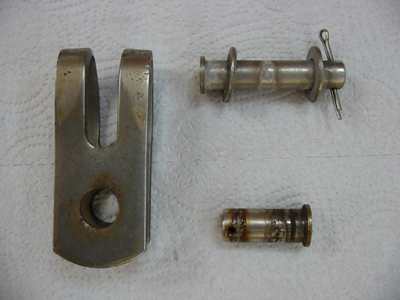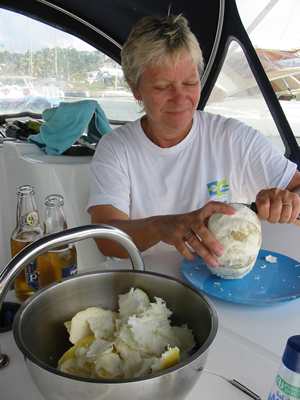 ---