Antigua

Whitemeadow
Phil Pascoe
Sat 21 Mar 2009 02:24
17:00.5N 61:45.8W
Nelson's Dockyard, English harbor, Antigua. 18 March 2009
We opted to tie up stern to in Nelson's Dockyard, English Harbour – expensive, but comfortable and very convenient. We made it, what a relief. Pete flies out tomorrow and Robin & John arrive, then Paula, Ben & Charlie leave on the 18th. We now have a busy time but at least there is no sailing to be done for a few days.
I hired a car for two days to do the airport 'taxi' runs and fit in some sightseeing – not a cheap option but solved the problem without too much hassle, as the airport is at the opposite end of the island and the taxi fare ($30US) is not cheap. We had a fairly full 5 days here and I think everyone enjoyed the area and a certain amount of relaxation. Antigua was pleasant enough, but as with all the other islands, milking the tourists (including yachties) was their main preoccupation. Ayesha from the Yealm was also in the Dockyard after being dismasted during the transatlantic crossing, and was fitted with her replacement mast during our stay. Ben & Charlie opted for a local hotel for 3 nights which put a dent in their travel budget, but I suppose the alternative was a boat load of snorers. On the 18th after we had cleared out through customs and been relieved of more money (Robin & John had to pay 50EC each for departure tax, and we had to pay 15 US for 150 gallons of water even though we'd only used about 70 gallons) four of us set out for St. John and then the airport by local bus. This all went fairly smoothly and after some negotiating, the bus driver ended up taking us all to the airport (rather swift farewells) and then me back to English Harbour. Blimey – the end of another leg of the voyage. Now it was back to 3 old men in a boat. Off we went to Jolly Harbour on the west side of Antigua (3 hours away) to do some more shopping (better supermarket) and then went to anchor outside the harbour ready for an early getaway to Nevis. I still have the problem of getting to the BVIs for the end of April, at the moment without crew. Taking Robin and John onto Tortola is a possibility – we will decide in St. Barts or St. Martin.
Help, stop the world, I want to get off! Although Harbour Rot was frustrating, I could do with another break from the near continual travel. Although I feel the whole trip has gone well so far, with virtually every deadline being met, and lots of friends and family helping along the way, a little more leisure time would have made it easier. Two weeks out here flies by, and it's nice to cover as much ground as possible in the time available. As many people have said to me, it's not possible to do it all in one season – now there's food for thought.
Pics: Happy hour at the Mad Mongoose, BOGOF Rum Punches. The classic view of English and Falmouth Harbours from Shirley heights.
Our anchoring position after 3 nights stern-to at the marina. Al fresco dining at Trappas, English harbour - a very nice meal thankyou Robin.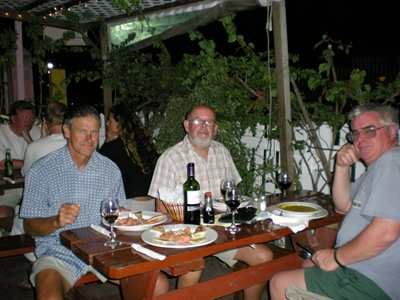 ---