Bermuda Shorts

Whitemeadow
Phil Pascoe
Fri 22 May 2009 10:25
32:22.53N 60:40.38W
St. George's Harbour, Bermuda.
Just a quick one (hopefully) as we are slightly in arrears with our blogging. We awoke to a calm sunny morning in St.George's Harbour and started to get our bearings during a leisurely breakfast in the cockpit. A couple of doses of caffeine helped to kick start our tired bodies, but it was about 10.30h before I radioed Customs to say we would bring WM over to clear in. Again an efficient, helpful response to say, Yes, please come alongside, we have been trying to raise you on Channel 16 and 27 since 08.00h. Crikey, do they expect me to have the VHF on all night?
Clearing in went smoothly, apart from the expected $15/person fee being raised to $35, but at least the nearby anchorage was free, and the dinghy dock was user-friendly and close to town, and we were supplied with basic tourist information. We anchored amongst several other yachts of all nationalities and then went ashore to explore.
Bermuda was a new experience for Dave and me, but Pete (globe-trotter) Sizer had been here before on holiday with Gail. He thought about 20 years ago, but after some deliberation and research found it was in 2000 (thankyou Gail). Anyway, our first impressions were good – all very clean and organized and 'English' and the natives were really friendly. Day 1 (Thursday) was spent gathering tourist information, checking out the supermarket (small but fairly well stocked), the chandlers, and fuel berth in St. George's and planning to be tourists on the Saturday and see as much of the island as possible by public transport. We grabbed a take-away lunch at the local supermarket deli, a help yourself arrangement of hot and cold food which you then pay for by weight (about $9 per pound – metric units have not reached Bermuda). A difficult dilemma choosing what foods represent the best value by weight – a cunning marketing ploy I thought. It was all tasty and very welcome as we consumed it on a bench in the local park. Then it was off to explore to the East of town – a sail-makers where bought a few spares for the mainsail, followed by a half mile hike to the local Yacht Club (or so called Dinghy Club) where most of the ARC Europe boats were berthed. Nice enough club, with several ARC participants gazing at laptops as they used the free WIFI link. We waited 20 mins for happy hour (17.30 to 19.30h?) – a pint of Fosters at $3.75, instead of $4 – would that make YOU happy? It was good to get a full pint for a change, these small bottles of beer don't even wet the sides, let alone reach the parts. Three pints later, having compared notes with some of the sailors, we were ready to head back to the boat. As we passed the East End Mini YC on the outskirts of town our thirsts needed slaking again. At the bar we started chatting to the locals and decided against more beer, and went for the Sizer option of Dark and Stormy, a mean little number consisting of dark rum and ginger beer (Gail's favourite tipple). Within 5 minutes we had the first round paid for and the second already lined up from another guy at the bar. In response to our mild protestations and thanks, he said, 'Are you here for your good looks or your drinking?' I also noticed that we were the only whites in the place; this was the 'locals' Yacht Club – does that set the scene. A few drinks later we wobbled out and headed back to the supermarket where we had an unfortunate accident with a wine bottle (won't bore you with the details, but none went down our throats), and then returned to the boat and some food before crashing (going to bed).
Needless to say our planned early start to a full sight-seeing day was neither early nor bright, but we did manage to get into town for a bus to the capital, Hamilton, by 09.30 ish. The journey took almost an hour, but the scenery was excellent as we followed our route on the map. Hamilton – a relatively big city, very clean and bustling, a mixture of modern and colonial. We did the Art gallery, the Cathedral, checked the big supermarket (impressive, if a little expensive) and then jumped on the ferry to the Historic Dockyard, right at the far western end of the island. I forgot to mention, we bought a day pass for all public transport (buses and ferries) for $12 each, so hoped to make the most of that. Long story short--- the Dockyard: cruise ship, tourist shops, pubs, restaurants, museum etc. I left Pete & Dave to explore further and bussed back to the world famous (if you're a biologist) Marine Biological Station near St. George's - I was given a mini tour of the facilities, although it was all very quiet (Friday pm?) – super place to do research. Then I caught another bus to meet up with the others in the Hamilton supermarket. They had seen more of the Dockyard and visited the Gibbs lighthouse and various other bits en route. Pete & I shopped, Dave headed back to meet up with a Land Registry colleague who was now working here on Bermuda. Eventually we all met up in a pub for a very pleasant meal and a few drinks – Three of us and John, + 3 friends of his. Good to get a local take on things – although they were leading a colonial existence to some extent. To bed – knackered.
Saturday: we all discovered that we had another day available on the bus tickets as the drivers had punched the wrong day (deliberately I think), but we also had a lot of other chores to sort out. Dave and Pete went off to sort out their air tickets from the Azores via wifi at the YC, and I bought extra diesel cans and did some boat chores. My day was more successful than theirs – the booking of the flights turned into a 2 day frustrating farce, but hopefully successful eventually. We took a late bus to Flatts, a picturesque little harbour & village, and walked back towards St,George's along the old railway track, now an extensive footpath around the island. Dinner onboard.
Sunday: More attempts at flight booking etc., some last minute shopping, a major tidy up on the boat, safety equipment check, some clothes washing, clearing out of Customs then a dash to get fuel and water before the fuel berth closed at 16.00h. Back to anchor again for final stowage and checks. Phew, ready or not, we must get underway for the next leg – farewell Bermuda, Azores here we come.
Bermuda notes and thoughts: Very pleasant island, efficient, clean, great climate, quite a lot to see and do, museums, exhibitions, parks, sports facilities, boats and more boats, friendly natives, great public transport. Tidy buildings, 90 % of houses with tiled pitched roofs covered with cement and painted white, with walls painted in various pastel shades – yellow, pink, blue, green, even some with rusty red, purple or turquoise. Lots of cars, but limited to one per household and only 1800cc unless it's commercial, plenty of scooters and motorbikes, but again limited to 150cc – they have some very good ideas on Bermuda – it seems to work. How their economy works is another matter, everything is pretty expensive, but perhaps not much more than most of the Caribbean, or Europe for that matter. A short but pleasant visit – we may be back.
Pete & Dave may add their take on things in a subsequent blog – but we needed to update our readers on the passage east – read on.
Pics: Our anchorage, St George's Harbour, WM 3rd from right. Town Hall and school kids.
How British can you get? Stocks and Squares (and courtesy flag).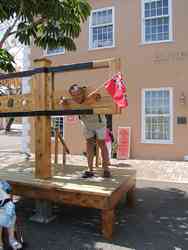 ---