Pusser's Painkillers

Whitemeadow
Phil Pascoe
Sat 9 May 2009 16:43
18:26.6N 64:45.05W
Jost Van Dyke, BVIs. 1st May 2009
Earlier this year I (Dave Basford ex resident of Veasy Park, Wembury 1974 to1989 and retiree of the Land Registry) was chatting to Pete when he mentioned that in addition to spending a fortnight with Phil sailing in the Caribbean he was also considering joining Phil at the end of April to spend a few days sailing round the British Virgin Islands and then to sail across the Atlantic to the Azores via Bermuda. I expressed my envy at this venture, it sounded a far better way to spend my time than decorating. A few days later I found, much to my surprise and delight, that Phil had accepted me as a crew member to join himself and Pete for the BVI and Azores trip.
On the evening of April 26 Pete and I found ourselves aboard Whitemeadow at anchor in Trellis Bay, Beef Island, British Virgin Islands (Paula's departure point). The most hazardous part of our individual journey's from the UK was the final 400 yards when we were rowed out to the boat by Phil in the inflatable with our overweight suitcase in a very choppy sea, albeit a nice and warm one.
The next day we had a walk round Beef Island, which fundamentally is home to the BVIs main airport, and then called into the small supermarket on the beach for some provisions. Very limited so we just bought a few beers and drank them on the supermarket's beach side terrace! We then had an 'awesome' sandwich before returning to the boat where we changed into swimming gear and attempted our first snorkel at the far end of the bay. We only managed to spot a few fish the best location being round a half submerged boat and around some abandoned hawsers and a car wheel lying in 2 fathoms!
On Tuesday we set sail to go round to Road Town, Tortola's main town. The forecast was for 20 knot winds and a few showers. On route to Road Town we called into Cooper Island. My first sail in the legendry haven for 'sail' cruising. As we rounded the headland the force 20 knot winds hit us rapidly increasing to 24 then 26 then 28 finally peaking at 35knots. This is nearly gale force but most envigorating. We then had our first rain shower, the equivalent of a Hampshire torrential downpour. The sail over to Manchioneel Bay on Cooper Island took only an hour or so through a lively sea. We moored and went ashore and had a short walk along the beach. There were few buildings, a small bar, shop and boutique. We had a brief chat with the lady working in the boutique to find she had just had a career change. She had spent her life working in boutiques on cruise liners but had now chosen to work on Cooper Island with a population of about 10. Quite a change.
Although warm it was overcast so we did not linger long and returned to the boat and sailed over to Road Town. Here we dropped anchor and went ashore to shop for vital stores to last for the time we were to spend sailing around the islands. Once ashore we had to pass through the Marina's Bar. Surprise, surprise it had a television which was tuned to the Chelsea v Barcelona European Cup Match. Two hours and several beers later we made it to the supermarket and searched for stores. The supermarket was much the same as others round the world containing a mixture of international products as well as a few local vegetables. I always enter these places with high expectation of the exotic but this is rarely the case. Shopping done we called into Pussers Bar for Happy Hour on the-way back to our new home riding at anchor in the bay.


We had a slightly bumpy night at anchor with the boat tugging at the anchor, or so I am told as I slept through it and had a good night's sleep,.as did Pete. Unfortunately not the same could be said for Phil who had an interrupted night with concern for the boat's and our safety. A pattern oft repeated during our sail round the islands. The next day, Wednesday 29 April Pete and I had a sightseeing walk round town whilst Phil sought out some yacht chandlers for a few spares for the boat and a refill of gaz. Road Town was at first glance an unremarkable place neither rich nor particularly poor. A mixture of small shops and houses. We did a final small shop for essentials and to get an idea of what was available for our big shop we would have to do before setting off for the Atlantic. That night we visited the local Yacht Club for their quiz evening and for a bite to eat. An American couple a little older than some of us, joined us to form a team of 5. An excellent challenging quiz which brought out the best in four of the team members. We tied for first place but as we had fewer members in our team compared with the others, we were declared the winner and took the prize of a bottle of champagne.
Thursday 30 April was a lovely sunny breezy day and we sailed over to Deadman Bay on Peter Island. This bay had a wide sandy beach. lovely warm water. An exclusive Hotel and a flock o Pelicans who entertained us for some while diving for fish. We went snorkelling at the opposite end of the beach to the pelicans but with limited success. There were no more than a few fish although Phil did manage to spot a Ray. From here we sailed over to Norman Island and dropped anchor in Bight Bay to spend the night. Yet another wonderful location. We were about 100 yds from the shore and had dinner on board listening to the music from live bands playing in the Pirates Bar on Shore. The name Pirate should have given us a clue. Drink prices were extreme. Next day we had a walk to the island's highest hill, just a few hundred feet, but enough of a walk given the blazing sun. Pete and Phil narrowly missing death when a snake slid away from them when only inches away. So far all had gone very well. Superb sailing in a wonderful weather, in a great boat, excellent company etc. Could it get better. Well, yes it could, at least for Phil and myself. We sailed round the western point of Bight Bay to Treasure point and there went snorkelling over the reef. An enormous variety of vibrantly coloured fish swam around us and through the coral below. Unfortunately Pete only had partial sight of these as his mask constantly let in water. He was somewhat disappointed. We left Treasure Point and crossed over to some impressive looking rocks called the Indians. Pete sulked below deck for this journey only to make an appearance in the cockpit as we arrived looking as never seen for the past 40 years. To solve his mask leaking problem he had shaved off the facial fluff. We all went snorkelling around the rocks and Pete could hardly contain his joy. The loss of 40 years of facial hair had been more than worth it. Now everyone was happy.
Jost Van Dyke was the next Island on our list of places to visit, so the afternoon we spent sailing across to this Island lying off the western end of Tortola Island (the largest and main island of the BVIs). Arriving at Jost Van Dyke we needed to search out a safe anchorage for the night. We first called in to White Bay and gingerly made our way through coral reefs to yet another 'film set' sandy beach with a warm rich blue sea lapping its edges. It looked good to Pete and I but it sent shivers of horror up and down the spine of our intrepid sea gypsy captain. The sea bed was only fractions of an inch from Whitemeadow's keel. The bottom being a mixture of sand and coral. We did an almost immediate about turn to look for safer anchorage. We found that in the next bay called Great Harbour which was where we spent Saturday night 2nd May.
Pics: Trellis Bay - beer in local bar $3.50, beer from supermarket $1.25, which would you choose?
Happy Hour (4 to 7pm) at Pusser's, P & D tried the Painkillers.
Snorkelling at The Caves, thanks for the fins Rob. Cleanshaven schoolboy goes snorkelling.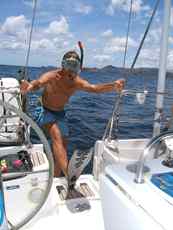 ---