British Virgins

Whitemeadow
Phil Pascoe
Sat 2 May 2009 21:03
18:29.69N 64:25.43W
Bitter End Yacht Club, Virgin Gorda. 19 April 2009
Back to Antigua for a moment – 10 April, Good Friday and Paula is on her way, in Premier Class, for another spell in purgatory, or will it be heaven? The first potential pitfall was that I'd forgotten that it was Easter and consequently the buses might not be running on Good Friday. After tidying up the boat and catching up on my washing, I set off early in case the buses were less frequent or non-existent. Fortunately, they were running to St. John, but I was told they wouldn't be going in the airport direction. The bus I caught from Jolly Harbour had a series of cracks all over the windscreen and a DVD playing above the dashboard which was slightly disconcerting – however, the driving was unusually steady for Antigua. I couldn't believe the buses were not running to the airport, so I walked to the East bus station only to find that it was true. I was offered a lift to the airport for $20 (nobody does anything for nothing on Antigua) which I reluctantly accepted – we chatted mainly about women, how tough relationships could be for men and the meaning of life, he had also been divorced! I arrived in good time and for once, everything ran fairly smoothly. Paula looked in fine fettle after her flight and then we had to sort out the return journey. I felt sure we would be able to scrounge a lift back to Jolly Harbour with some of the tourists arriving – however, it seems that in Antigua, nothing comes for free. We eventually opted for a taxi back to St. John, which we had to book through the Antigua and Barbuda Transport Board Airport Taxi Dispatcher's desk (unbelievable) for $11US or $29EC – then I saw a very colonial British couple approaching the desk and I asked where they were going – 'just into Town for something to eat while we wait for our connecting flight', they replied. 'Would you like to share our taxi' I asked. 'That's very kind of you' they responded. Then the Taxi dispatcher interjected – ' You can all travel in the same taxi but you'll both have to pay $11'. Long story short – both couples had to pay, so the taxi driver received twice the normal fee – what a stupid, illogical system. I suggested that we'll take separate taxis and burn a few more fossil fuels, add to global warming and the world will end that much quicker, but it fell on deaf ears. I will write to the aforementioned board and suggest that their system is stupid.
Welcome back to the Caribbean Paula.
The rest of the day went smoothly, we managed to get everything back to the boat DRY and settled into the Sea Gypsy life again. We invited our neighbour, Clive, an English Sea Gypsy, from the Plymouth area onboard for a drink. G & Ts and a chat about the whys and wherefores of long distance sailing. Always interesting and always puzzling, hearing about other people's lifestyles and circumstances.
We spent the next day chilling out and walking around the Jolly Harbour area, getting Paula onto the Ship's papers, clearing out of customs and immigration, food shopping and then another night at anchor.
OK, we were ready for the trip westward, but first I thought it would be good to take a look at Barbuda again – that was the plan after we filled with water at the fuel dock in JH. The winds were light for the initial hour and Paula soon had the fishing line over the stern – and to our surprise actually caught something off Five Island bay, a reasonably sized Kingfish (see pics). After that, as usual, the wind was relatively strong and against us, it was going to take ages to get to Barbuda and Paula didn't like the sound of the navigation amongst the reefs at Spanish Point. We aborted, took a 90 degree turn and headed for Nevis. More comfortable now, but the detour meant we arrived just after dark at the Pinney's Beach moorings (west coast of Nevis). Finding a buoy, even though there were many of them and I'd been there before, was a slight problem in the dark. Helped by a decent torch beam from a nearby Dutch boat (he'd heard the heated communication between foredeck and helm) we were soon secured and could relax – another longish day. We ate the fish that evening and very nice it was too - however, a day or so later we read about Ciguatera, or tropical fish poisoning that is prevalent in this area, at least in several species of reef fish. It is caused by an accumulation of toxins from microscopic algae, in the flesh of top predators, and the symptoms are fairly severe with an incubation period of a few minutes to several hours. Fortunately some time had passed before we read this, so we assumed even with our cast-iron constitutions, we must be OK.

We planned a relaxing day on Nevis, it was Easter Monday – this started with a dinghy trip ashore, a walk along the beach, which we had almost to ourselves, a snorkeling session on the man-made reefs off the Four Seasons Resort and then after watching the pelicans diving, we headed back to the boat. The Four Seasons resort was temporarily closed due to the damage sustained during the last hurricane (forgotten the name, and the year, could be Ivan, 2008) – most of the ground floor accommodation was flooded, beach-front walls and buildings were smashed and the swimming pool was filled with sand. There were many other similar examples, and most looked to have been hit some years before and were still not refurbished – insurance issues were probably the main reason, we were told. This was obviously quite a blow to the local workforce and the community as a whole, as only a skeleton staff remained as security guards. We talked to a couple of them (middle aged women), and they were very friendly and quite philosophical about it all. I suppose one gets used to living in a hurricane zone.
After lunch we walked to Charlestown and caught a bus to Gingerland and walked to the Golden Rock estate, an old plantation, now converted to a hotel and restaurant. We did the nature walk, saw some monkeys, and continued upwards on the 'Source' trail, which eventually leads to the source of the water for the plantation and the whole area I imagine. We ran short of time and had to head back – overall an interesting walk, some of which was past the houses and small-holdings of ordinary people; pigs, chickens, goats, wrecked cars and rubbish abounded, and overall gave the impression that Nevis is not a wealthy island. It was a long, thirsty walk back towards town before we resorted to a bus, and then a quick stop in a dodgy bar for a beer, before finally getting back to the boat. Masochism rules again, but it was a good day.
A 07.20h departure and we were soon hard on the wind through the Narrows between Nevis and St. Kitts en route to St. Barts. All went well until we were off the end of St. Barts and we picked up some fishing pots or line which also snagged our fishing line. The prop wouldn't turn when out of gear, so it was obviously fouled by the rope, which meant we couldn't use the engine safely. I pulled most of the line onboard, there was masses of it, at least 100 metres. We tried cutting it and pulling all six ends, but still couldn't free it. The best plan seemed to be to sail up to Anse de Colombier, at the West end of the island, and sail upwind to anchor or pick up one of the Marine Park's mooring buoys. I tried to do this with just the mainsail, but within the Bay there was insufficient wind to give the drive required. Eventually we signalled to a French yacht and he kindly gave us a tow to a buoy. I quickly donned my mask and dived to free the prop, which fortunately wasn't too difficult. We moved to another buoy and relaxed after another eventful and slightly traumatic day.
The next morning we set off to walk to Gustavia, but it proved too long and too hot – public transport is non-existent on St. Barts. We returned to the boat and snorkelled – Turtles! It was fascinating watching turtles feed on the weed below us, they are amazing creatures and remarkably human-like in their appearance and antics. It's great that the marine animals here in the Caribbean seem to show no fear of people, some of the fish even seem to be attracted and swim over to look at you. The following morning we motored around to Gustavia – I had to show Paula more of St. Barts, one of the more attractive, and certainly one of the best orgaanised, islands in my view. We shopped for food and then set off for the next island, the French side of St Martin. This took most of the afternoon, but it was a pleasant sail. We anchored amongst lots of other boats in the bay off Marigot. Some of the time on St. Martin was spent chasing around for spares, oil and filters for the boat, but we did get a better look at Marigot and Philipsburg, than during my last visit with John and Robin. One of the highlights was finding two beach bars where the beers were $1 – we took full advantage of this offer, and talked with the barmaid, a Finnish lady that lived here. These islands certainly attract a strange mixture of nationalities and types. The following day we ventured into Simpson Bay lagoon with the dinghy and did the rounds of chandleries. Eventually I had all I needed for the boat (5 litres of oil, fuel and oil filters, and special grease for winches) and we had bought two new diving masks that were on offer. After a final visit to a supermarket on the Dutch side (they're cheaper) we returned to the boat, had lunch, went to the marina to fill with water (bit of farce finding it) before setting off on a night sail to our goal, the British Virgin Islands.
A fairly uneventful night, with rather light winds forcing us to motor some of the way. It did take us almost 19 hours to cover about 80 miles, but at least it was comfortable. It was good to have reached Virgin Gorda at last and we anchored as soon as we could in North (or Gorda) Sound, off Prickly Pear Island. We snorkelled there to test our new masks and, as we had the place to ourselves, I went 'skinny snorkelling' (cheeky boy) which I have to say was a very liberating and pleasurable experience. However, I didn't realize how quickly previously unexposed skin can burn in the Caribbean sun, particularly when snorkeling! My very rosy cheeks needed some after-sun cream the next day. We then moved to an anchorage near the Bitter End Yacht Club resort in the east end of the sound. It was a nice sheltered setting, where most of the boats use the mooring buoys provided, but we had found out that these cost $30 a night – we went to anchor! The resort was fairly up-market and rather expensive (5 to 10,000 dollars a week for two people) but welcomed visiting yachties and even provided public rest-rooms (American for bogs – the American influence here is very irritating). We walked around the area in the late afternoon and the following day, hooked up to their WIFI, looked at the bar/restaurant and shop, used the rest-rooms and didn't spend a penny (excuse the pun), perhaps that should be, didn't spend a dime.
The BVIs, we've made it!
Pics: The first Big Game fish of the trip. Hurricane damage at the Four Seasons resort, Nevis.
Perishing Pelicans, Nevis. In search of the 'Source', Nevis.
The fishing line off St. Barts. Anse de Colombier, St. Barts.
The cliff walk towards Gustavia. Bitter End Yacht Club resort, Virgin Gorda.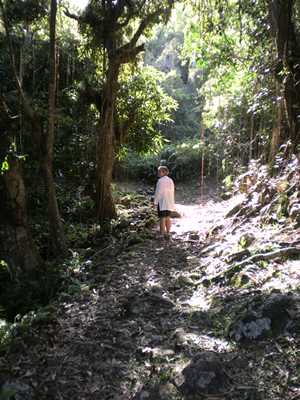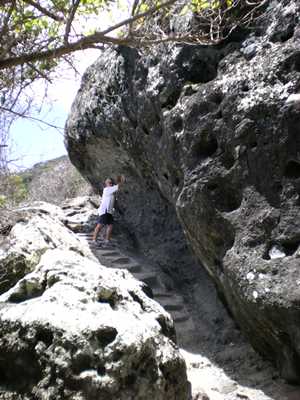 ---