Canouan (Grenadines)

Whitemeadow
Phil Pascoe
Mon 2 Feb 2009 18:21

25 Jan;

Charlestown Bay, Canouan.
Well, we've done a few islands since I last blogged. First, it was up from Grenada to Union Island (the southern end of St. Vincent and the Grenadines territory), more immigration and customs, more money needed. At least I didn't have far to walk to the airport – where we anchored was virtually on the end of the runway. Only inter-island planes though, no Jumbos here. A lively night at anchor, as the wind was gusty and we quite close to another moored boat. We all went ashore in the morning; quite a busy little place, but nowt special, and food prices were much higher than Grenada. Our only purchase was a 24 pack of 330ml Hairoun beer for EC$99 (about £25!!). If this was on the shelf at Somerfield, it would be out of date before it was sold. We debated about a 100g jar of Nescafe at £4.50, and decided we could live without coffee for another day. Desperate times. For those due to come out and join us, please bring several large jars of Gold Blend, Carte Noire or Douwe Egberts (if and when on offer of course).
Set off late morning on Sunday (26 Jan) and came up to Mayreau and anchored for lunch and snorkelling over reef. Wendy (with her posh fins) was the only one to swim ashore. Then it was off to take a look at Tobago Cays and Horseshoe reef – time was a bit tight but we had to do it as everyone says they are not to be missed. It was pretty windy and as the pic of plotter shows (hopefully) we had some interesting sailing/navigation to get in amongst it. We were amazed at the number of boats anchored inside the reef – not a great place to sit all night, I guess it's sheltered from the swells but still exposed to the wind. I also assume the diving and snorkeling must be good, but we didn't stay for any swimming etc. It wasn't far then to sail up to Canouan for the night. After being chased off one of the Moorings buoys we resorted to accepting a buoy from Marcus for EC$40 (£10) as it was close to shore and the Tamaind Beach resort, but we did only have 0.3m under us! Marcus eased my concern somewhat by confirming it was near Low water and we would get another metre during the night. This is the newest Moorings charter base in the Grenadines and they've taken over most of the Bay. Even if the buoys are not taken it would appear that Joe Public is not allowed to use them. Mooring and anchoring here is often fraught with problems, I may not whinge so much about Salcombe in the future (if I can afford to go there). Paula and I went ashore in the morning and used the Tamarind facilities for a cold shower (thankyou) and wandered up the main street, all a bit dead for a Monday morning, some up-market houses around on the upper slopes, but the village just had the usual motley collection of mini-marts and small bars + a school +a government building of some sort. Bill Gates has a Villa here apparently – the Wifi connection wasn't too good though.
We're all beginning to wonder about the merits of the Caribbean Islands – are we missing something? Our Guide Books and Pilots (Doyle's, Imray and Les Weatheritt) are mainly positive and suggest Cruising the Caribbean is near idyllic (or are we reading what we want to see) but most of it seems to be the same old masochism, but in a warm climate. Perhaps we are moving too fast? Perhaps it's the recession. Perhaps it's global climate change – the locals tell us that it's rained much more than usual. Bad year to choose maybe. It'll get better (rare optimism from the Skipper) when we slow down and enjoy civilization at a marina – the best bit about sailing is when it stops!
The daily debate on where and when we visit different islands and how soon we want to get to St. Lucia continues. The need for a marina and some civilization is high on the priority list.
If this arrives in time, enjoy your Party Gina, sorry to miss it, if we can afford a bottle of something we'll raise a glass or two. Cheers.
More soon, PPP & W
Pics: Paddy & Wendy getting into their roles.
Phil doing Griff Rhys Jones impersonation with courtesy flags. Dinner with Wine!
Tobago Cays on plotter - eek!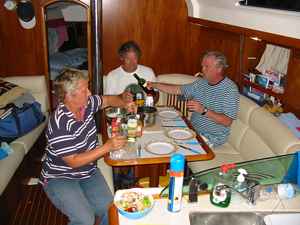 ---