Life on Mustique

Ocean Science's blog
Glenn Cooper
Fri 2 Mar 2018 17:38
This is a privately owned island, the ownership now being with The Mustique Company Limited, which runs pretty well everything - the roads, the airport and also the planes, the dock and the utilities. There are around 100 property owners, most of whom are shareholders in The Company. It is a sort of condominium. Back in the late 1950's a Scottish aristo called Tennant bought it. He paid something like £45,000. Today that would buy a hutch for a single celibate tortoise. He developed it, and his pal Princess Margaret became a regular visitor. I scoured the beaches for one of her fag ends as a souvenir, but no luck.
Although it is an opulent playground for the mega rich and celebs such as Sir Mick (we must have just missed him) it is actually a charming and unspoilt place. Building is controlled. There are large parts of the island left wild, with shady pathways through mangroves leading to quiet beaches. .
There are many tortoises, particularly after rain when they come out to drink from the roads.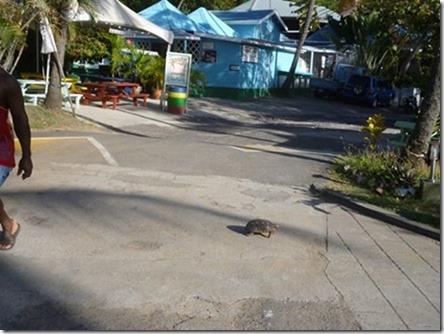 We have to clear immigration at the airport, which is just below our hosts' house. The airport terminal looks more like a beach bar:
It is a hairy approach. It attracts spectators. You can get to places like St Lucia in a few minutes. Getting here from London does not take as long as you might think.
Think picnic and what comes to mind? Maybe a tartan rug, some cheese sandwiches, a thermos, plastic beakers. It is all a bit different on Mustique. A selection of staff from the house serve chicken and ribs from the barbeque, rum punch and rose with lunch, home made brownies. All at a long table on the beach in a purpose built shelter. I am just passing on information. This is what happened. I am not trying to piss you off, honest.
Then back to the house for a shower, a swim, a read, a hot tub, and hey ho is it that time again? Plates of canapes appear (e.g caviar on fresh ginger) and the bar is open. A bit more of this and hey ho it is dinner time – 10 of us round the familiar table. This is life on Mustique.
---