Nice leaping, guys

Ocean Science's blog
Glenn Cooper
Sat 11 Oct 2014 10:20
"30:01.32N 11:57.9W"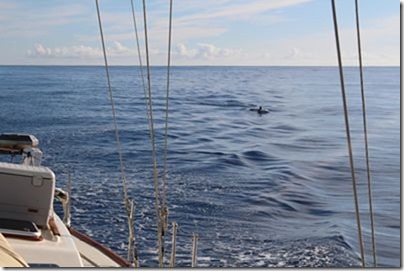 Two of these beautiful animals did a bit of showing off, leaping well out of the water as they raced alongside the boat. Alex did a good job in capturing them on film. They come and go like rockets.
Last night's sunset was an Oscar winner. What look like trees are little clouds on the horizon, with the set sun seeming to shine through the water, making the sea turquoise.
All well on board. A bit more wind this morning, so the sails are doing some work. The fuel should last but we are running out of water, probably due to frenzied showering by the crew.
---