25:57.06N 30:01.76W

Ocean Science's blog
Glenn Cooper
Sun 18 Jan 2015 21:42
Some of us were sitting in the cockpit, trying to elide Byron's "The Destruction of Sennacherib" with the good ol' cowboy song"A Four Legged Friend" by Roy Rodgers - a tricky task although they share the same meter. This inspired Ben Dowson to roll out the iPad and write a poem about our trip. And here it is
Mid-Atlantic Doggerel
The wind's on the rise, and the sun's in our eyes
And the weather has never been fairer,
Teresa's on deck, AIS round her neck,
And we're eight hundred miles from Gomera.
The bilges are clean where the diesel had been
And all the canaries have flown;
And there's no ship in sight – not even a light,
So it seems we are out here alone.
Here's Godfather Glenn, the finest of men,
With dressing gown firmly in place;
It's ten fifty-five and he's fully alive,
And wearing a grin on his face;
For we're making good time (though not on the rhumb line)
And we're one ninety-four for the day;
But there's miles still to go, and the charts tell us so,
And we'll not make Antigua today.
Heading west by north-west we are doing our best
To profit with wind blowing sure;
If it acts as it ought, we may gybe to port
And fall out of our bunks on the floor!
Then lunch is served up – gourmet soup in a cup,
With leftovers fit for a king.
Ben makes some repairs while we all stand and stare
At the genius hidden within.
As twilight descends, and another day ends,
Gregor expertly knocks up a pie;
"Other Ben" croons to a late-sixties tune,
While Jupiter climbs in the sky.
At midnight, a shout: a galley drawer just popped out
With a crash to make dead folk awaken,
And deep in its bowels the angry sea growls...
But our schooner is stirred, but not shaken.
Alone with our thoughts, we reflect (as we ought)
On our loved ones who remain in their seats,
And thank them for the chance to up sticks, and dance
To a totally different beat.
And while we yet muse on the paths that we choose
And our waypoints that now are long gone,
Through sun, wind and rain, and the Abysmal Plain
Our schooner sails silently on.
©2015 Ben Dowson
The drawer event led to Glenn and Ben S doing some fairly advanced carpentry with vernier, drill, glue and dowel rod on a sailing boat in the middle of a heavy swell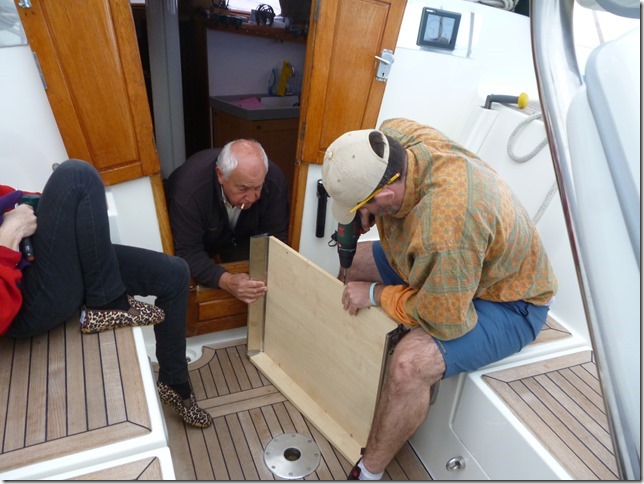 No, Glenn is not smoking a fag, it is a piece of dowel
PS from Binnacle Bertie - I am sure many of you sweeties must be absolutely DYING to see the leopard skin deck shoes I mentioned in the previous blog
All the best from Teresa above, from these two below (Gregor and Ben D, the Man in Black) and all the other happy sailors. We have been under sail only for many days which is what it is all about. Yippee.
---