The end of our way

Ocean Science's blog
Glenn Cooper
Sat 10 Mar 2018 21:06
"This is the place Craven, the end of our way;
hobble the horses, we have had a long day.."
[McNeice, Eclogue from Iceland]
Saturday is the day for a full English fry-up. The cook is given the morning off, so we pile into the little dinghy and trundle across the bay to the Catamaran Club, the very place where we got a tearstained welcome 3 years ago after crossing the Atlantic.
Approaching the Cat Club
Glenn's affable and reliable driver, Vernon, full English at the Captain's Table.
There is always a post somewhere with a pelican chilling out.
Then back to the boat, sails up and a nice broad reach round to Jolly Harbour, with a mooring up on the maintenance dock - alongside a jetty which is much nicer than stern on.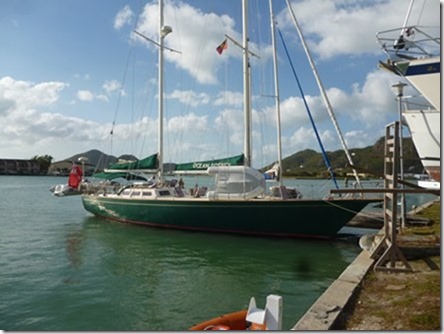 No dramas on the way except I fell into the starboard lazarette trying to get some mooring lines out, what a tosser. Mike had to make a sort of rope cradle to get me out. No harm done, but another laugh provided to the crew by the Director of Fun.
Plus there were some sorry sights coming up the long and winding road. One boat aground and one on the rocks, but worst of all our pal Tony, the diver, had had his boat totalled at its mooring, with only a doggy outboard salvaged. Tony has sailed with Glenn in the past. The boat was his home. This was the weather that gave us big surf a while back.
Tony about to scrape our hull before departure.
Tony's sad outboard
---