Fun in Falmouth

Ocean Science's blog
Glenn Cooper
Sat 10 Mar 2018 14:06
Friday evening and we are off in the little tender to Falmouth for tuck and fun. On the way we chug past arrays of giant powerboats moored up at the docks. They are truly massive, more like ferries than pleasure boats. We think there are three types - spiv, kleptcrat and money launderer. We tie up at the dinghy dock and saunter down to an Italian restaurant for a lovely meal on the terrace in the balmy evening air.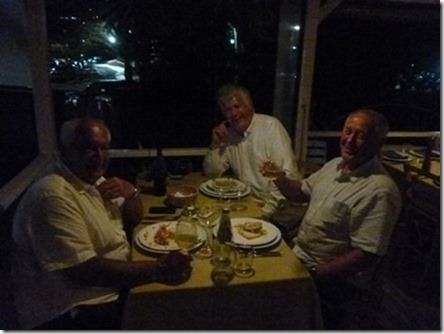 Then we head back through the crowds of people in restaurants and in bars, including one with an impressive rock band playing Long Train Runnin', better heard from across the road because of decibel level. On our way we detour to the zigzagging pontoons to have a close look at the hardware. Close up the powerboats are even more ghastly. One catamaran is as wide as the frontage of the Dorchester Hotel. Inside there are chandeliers and elaborate furniture – the Boat that Taste Forgot.
Suppressing our gag reflexes we have a look at some of the sailing boats, and here we are in a better place. There are some magnificent specimens – all shapes and sizes including a famous racing Maxi sitting quietly on the dock, but when in operation would have a crew of around 30 musclebound supermen. We chug back to OS and survey the glittering scene from the cockpit with a suitable nightcap. All around us are red lights at the top of huge masts. Useless except as statements – "My thingy is bigger than your thingy".
---