Berthed in Puerto Calero

Ocean Science's blog
Glenn Cooper
Mon 13 Oct 2014 16:27
A few minor mishaps to attend to - a torn mainsail needs a patch and is with the sailmaker; the water maker awaits Senor Aqua's attendance; and the manky sheets have has been trollied off to laundryland.
This is a very pleasant and efficient marina, with a faint air of Portmeirion about it. The place was all built at the same time and has bits of Spanish vernacular architecture here and there. There is no other habitation in the immediate neighbourhood and we are surrounded by acres of black pumice. Heavy smokers just need to drag their fingers on the ground and nicotine stains disappear.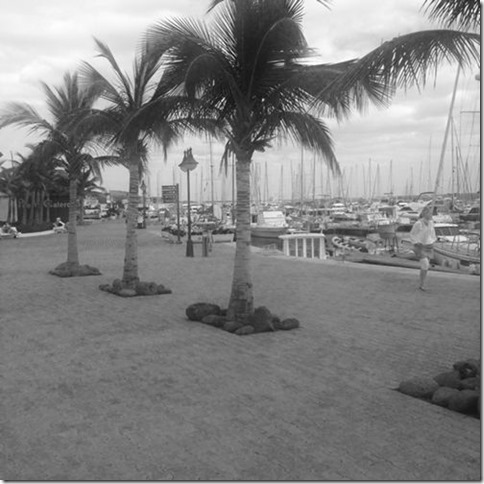 (sorry about the black and white – being a rather retro bloke I was using an iPhone for the first time and must have pressed the wrong thing)
The boat is now tucked in, with some nice neighbours including a converted trawler which is registered in Linz, Austria, a country with no coastline.
Y-fronts courtesy of G. Grant (on forward starboard rail – the rule is that washing goes forward of the cockpit don'tcha know). Skipper giving cheery wave from the stern (we are the only two left on board, the _expression_ skeleton crew is not very apt)
and finally
guess which one of us seven hearties had a full body waxing and posed for this photoshoot.
---