Daysailing

Kind of Blue
Martin& Dawn Neumayer
Mon 31 Aug 2015 08:54
After we heard, that Stephan, a school friend of Andreas will not come on Sunday , we didn't return to the Marina and enjoyed Gennaker sailing at its best !
Looking for a new anchor spot, we decided to look at new places at Dugi Otok and on the island of Iz (Soline).
Our goal is to pick up Stephan late morning in the Marina, so the spots were about 2h away from OIM .
First we started to explore the mooring buoys in Brbinj- a wonderful place, but crowed too many buoys close to each other – for sure a place for off season !
Soline on Iz , 2 fish farms and the good spots were already taken .
So we decided to head course to Bokasin again and to try the other side of the bay with another Submarine bunker. If we don't like it, we would return to our "home bay".
So we did – 2nd bunker bay is not as attractiv .
We are anchored between the small islands in Bokasin.
I almost forgot –the Technican hopefully fixed shore powe hot water problem!
Now Monday – the fog is here and you barley see the other ships , so we are waiting till the fog lifts, to pick up Stephan.
---
Diese E-Mail wurde von Avast Antivirus-Software auf Viren geprüft.
www.avast.com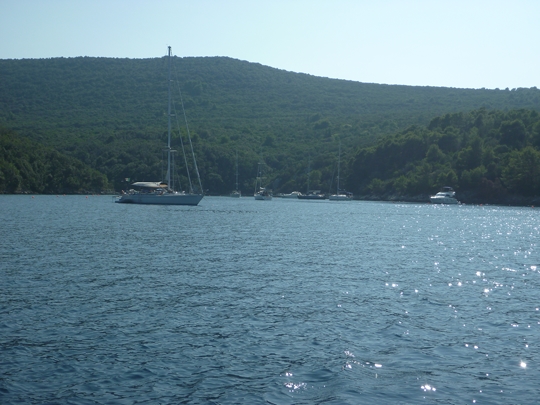 ---