WG: Pre- excursion to the Krka National Park

Kind of Blue
Martin& Dawn Neumayer
Mon 12 Oct 2015 19:09
43:45.15N 15:58.39E
The weather forecast promised beautiful sunshine and no wind!
Yes sun was here, after torrential rain over the weekend with pretty gusty wind - Bora at its best .
The sea was flat, so we decided to take advantage of our car and make a land excursion to Krka national park near Skradin, were we want sail to with Ann& Chris next week, weather permitting .
We chose to go to Roski slap a lesser crowed area of the park . To make it short we had a great time !
We climbed 519 stairs to the cave of Ozidana pecina – a nice private tour with a more than friendly park ranger. Than we climbed/ hiked up with 500m elevation gain to the top of a cliff to enjoy beautiful scenery and views .
By the water mills of Roski slap with a wonderful lunch with local prosut&cheese and a taste of local red wine .
Now we happy to rest and watching soon the sun set. From tomorrow on the weather looks nasty again, but we will try to keep our moral high.
---
Diese E-Mail wurde von Avast Antivirus-Software auf Viren geprüft.
www.avast.com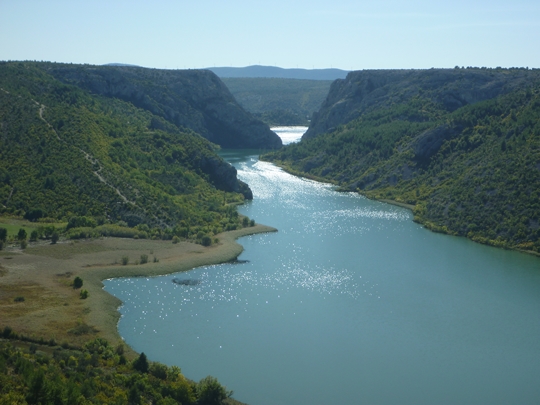 ---