Kornati Islands - Anchorage Modri Bok

Kind of Blue
Martin& Dawn Neumayer
Sat 17 Oct 2015 19:37
43:49.005N 15:17.517E
At 4h at clock in the morning lighting thunders and rain woke me up – a brieve deck walk to check everything and happily and I went back to my bunk again .
We woke up to to sunshine a brisk morning swim for Dawn& me and off went over to another buoy to hike the salt lake and the cliffs on Dugi Otok – wonderful senery !
Donkeys of the island greeted us and Dawn decided to to paint olive trees, but she started with a sculptre of an olive tree. Chris decided that depressed donkeys will jump over the cliffs .
You can see, the intelectual part is not missed on the sail .
Due to the weather forecast – rain on Monday, the group decided to stay oin the Kornati`s and not go up to Skradin.
We leasurly sailed with 2 kts speed trough the archipelgo and picked Modri Bok as our anchorage.
Wonderful aftenoon swim – chilling on the fordeck to look at the sunset – I wouls say we had a pretty good day.
Coq a vin mit selbstgemachten Nockerln for Dinner – we will sleep good !
---
Diese E-Mail wurde von Avast Antivirus-Software auf Viren geprüft.
www.avast.com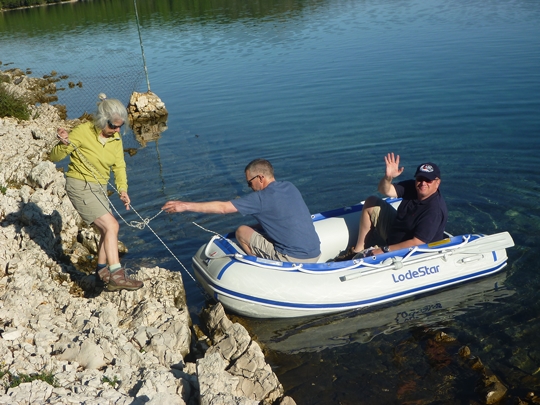 ---