Englishman's Bay, Tobago

The customs officer at Charlotteville gave us permission to bay hop on our way down to the port at Scarborough on the south eastern tip of Tobago. Unlike most of the other Caribbean islands, you have to clear in and out of each 'port' here and let them know where you are. They do allow you to stop in all the anchorages in between, you just need to have your papers endorsed.
So once the torrential rain had stopped, we motored out of Man of War Bay at Charlottevile in a mirror-like sea with zero wind.
No sooner had we left the bay when we spotted dolphins surrounding Pannikin ahead of us. Then they headed for Joy, the water bubbling as they raced towards us and got under our bow. These were big dolphins, with lots of battle scars making them easy to identify as they nudged each other for pole position. We could see one clearly rubbing his back on the hull underneath the bow using Joy as a scratching post, what a privilege. They turned their heads up to stare at us as we stared down, I am not sure who enjoys the experience the most, them or us!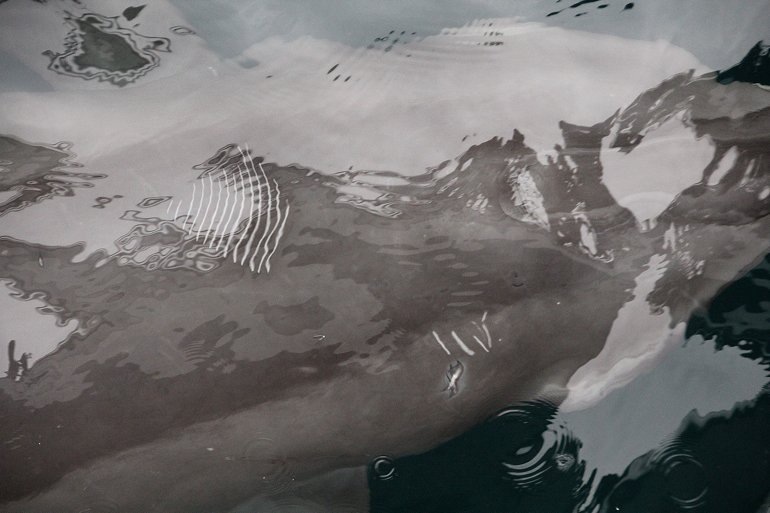 We had three pods in all come and join us, the second one had smaller dolphins and when they were bored of riding the bow wave they gave us some spectacular spy hops and tail slaps!







This made up for the fact that the next two anchorages were very small and full of small fishing boats and buoys, as we entered Bloody Bay the water turned to brown with the run off from the river with lots of floating debris. So we pushed on to Englishman's Bay, and couldn't have wished for a more stunning anchorage with a beautiful backdrop. With a stern anchor laid as well as the bow, holding Joy's nose in to the swell entering the bay, we sat comfortably in sparkling emerald green water.
The bay has a sandy bottom so good holding, a rocky ledge lies close to the beach and rocks and amazing corals line the north shore. This made great snorkelling, with huge trumpet fish about a metre long, a large school of blue tangs and a pair of large angel fish amongst all the other usuals.
There is a wonderful sandy beach here lined with coconut trees, no development around except for a small bar/restaurant which also sells colourful sarongs and souvenirs.






After a roti for lunch at the bar the following day, we all went for a walk along the road towards the village of Castara in search of wifi. This took us along the windy coast, with great views down on to Englishman's Bay, and of course the boats.







The next small bay along was deserted, all except for the dozens of Pelicans patrolling the sky.






We never made it to Castara, after about an hours walk we discovered we were only half way there and it was late afternoon, so we turned back and very shortly afterwards were offered a lift by a passing couple, a fellow Brit and his Trinidadian wife who now live in Tobago, who were also going to Englishman's Bay to meet friends. We accepted their kind offer and all four hot explorers piled into the back of their car. When we arrived at the bay they insisted we also accept a copy of their book, they were Jehovah's Witnesses and of course we gratefully obliged...bed time reading? Made a good fly swat anyway.

Steve managed to get an internet connection from Pannikin later that evening, so we had a quick check on tropical storm Bertha to make sure she wasn't coming our way. Luckily she had continued to move WNW and was heading for Barbados so we could relax and sleep easy.
After two very peaceful nights here, we decided to head off to Castara with the boat, and we said goodbye to Pannikin as they were heading further south to do some provisioning.
---