12 35 600N 61 24 700W Union Island

As you can probably gather, we were reluctant to leave the Cays after three glorious days, we were also visited by more Grackle birds so I had rather a mess to clear off the deck when we left – still, they were great entertainment and kept Mum and I amused for ages!
Next stop was Union Island, just a couple of miles south, and after leaving the Cays we negotiated the passage amongst the reefs.
The entrance to Clifton Harbour on Union Island is pretty spectacular as it is surrounded by reef. A bar has been built upon a base of conch shells right on the reef which adds to the view, and kite surfers roared up and down.
We anchored just off the reef with the trade winds still blowing a healthy 20 knots from the east. We went ashore for provisions and wifi, they have a great little produce market with colourful stalls surrounded by what would be a green in the wet season. Goats roamed around the street fighting over every little blade of greenery they could find, the island is very dry. I chatted with a French girl in a boutique who told me they were desperately waiting for the wet season to start as they were all low on water. They have no desalination plant on the island and all their water comes from saved rain water, the council has a communal tank where the locals in need can fill as many cans as they can carry home. The town here is quirky, a few little shops and eateries, all looking very empty. We chose L'Aquarium for dinner that night as it looked busy, unlike everywhere else, we had a long wait for food but it was worth it. The owner told Mum that she was closing in a months time as this business wasn't viable, the long wait for food was because they usually only do 4 or 5 covers in the evening, that night for some reason 20 or so had turned up and they were rather overwhelmed. It seems like everyone is struggling for business here.
The following day we checked out, eventually, at the small airport close by. The customs office in town was shut during their advertised opening times, surprise surprise, and a local directed us to the airport instead. Formalities completed and with 24 hours grace, we sailed around the southern coast to a fantastic anchorage in Chatham Bay, a great stretch of beach with 6 small beach bars at one end, and a posh restaurant/bar at the other. After a lovely morning walk along the beach, we had a refreshing snorkel with thousands of juvenile fish weaving their way around the rocks along the shore, flashes of silver light igniting with the sun, it was a spectacular sight. The bay is very sheltered apart from the occasional 'shrieking gust' which come out of nowhere and rattle the rigging for a second or too before calm is restored.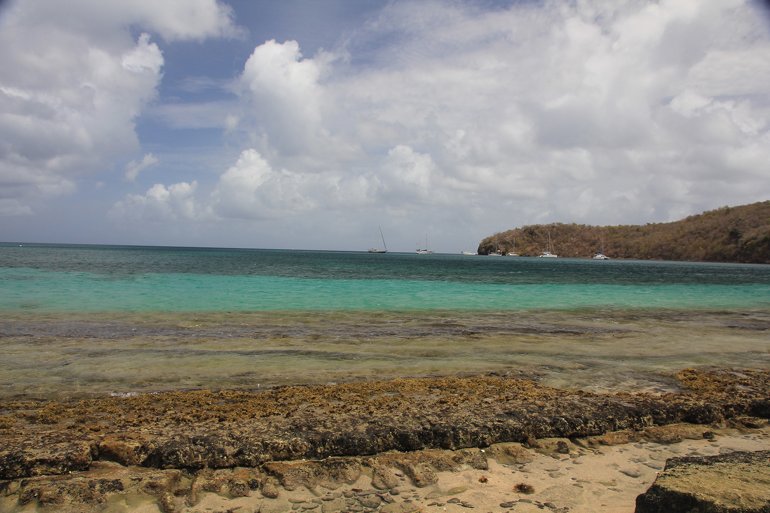 ---