18 04N 63 05W

Joy
Thu 20 Mar 2014 17:07
The last three weeks have been spent suspended in time in sunny St Martin on the French side (it's cheaper to check in here compared with the Dutch side!), waiting for Raymarine to return our E125 navigation equipment. We didn't waste our time here waiting, we gave Baby Joy a full repair job after the tear in her from Martinique came back to haunt us. The PVC glue doesn't stand up very well in the Caribbean sun so this will be an ongoing problem for us. So she was out of action for 5 days and we stayed on board anchored in Marigot Bay on the North of the island with about 100 other yachts! Lots of varnishing has been done, the cockpit now looks much smarter with a varnished wheel, drinks holder and tidied table. Time to catch up with friends too, Pannikin was here to greet us when we arrived, they spotted us tacking into the bay after a long days sail from south of St Kitts, and radioed us up which was a lovely surprise, so we caught up with them over a nice cold beer or two. Amaris were also here and we bumped into them the following day so had lunch with them and a few drinks in the evening. New friends were made too, our neighbours in the anchorage were 'Bones' and Anna aboard their lovely ketch Emily Morgan. They are from Plymouth and have been chartering their yacht for the first time this season in the Caribbean having crossed the Atlantic a week before us. We had dinner on board Emily Morgan and talked about all our experiences until the wee hours. They dined on board Joy a few days later and it was another late night, or rather early morning! So we haven't been short of company in our wait!
St Martin is very different from the other islands, it has a huge lagoon which is split between French and Dutch ownership although you can cross the imaginary border without any bureaucracy. The Dutch side of the lagoon is smarter than the French side, and has every kind of yacht service you can imagine and two large well stocked chandleries. There are several marinas within the lagoon and both sides have their own lifting bridge allowing access for yachts. The lagoon itself does not look very appealing, as we whizzed across it several times in the dinghy you can see the water is very murky with large masses of floating weed, it looks like a graveyard for abandoned and unloved boats on the French side, lots of hulls sporting a weedy green beard. As you pass under the road bridge in the centre of the lagoon to the Dutch side the view changes with large superyachts, both motor and sail, all getting spruced up for the next set of paying guests. There are some rather shallow areas in the lagoon and we have watched on several occasions as yachts stuck in the mud receive all sorts of pushing and pulling from dinghies to try and free them.
Apart from Raymarine, DHL has earned its place near the top of our list of swear words. DHL sped our long awaited repaired screen here on their EXPRESS delivery service from USA, overnight I hear you ask? Over 14 nights I reply – yes it actually took 2 WEEKS! Our lucky parcel had a nice tour of the Caribbean Islands, flying straight past its delivery address, then got held up in Antigua as things do, before returning north and arriving here in St Martin. I think a pooh stick would have made it here quicker.
We were just so relieved to have it back, and after collecting it from the lovely people at L'ile Marine Chandlery near Marigot we eagerly got back on board and plugged it in……and it didn't work! In fact, it was actually worse than when we originally sent it back to Raymarine on their superfast 12 day turnaround under warranty ( 6 weeks ago).
To cut a very long story short we took it back to a Raymarine agent on the Dutch side of the island who tested it and confirmed once again that it is the unit that is faulty and not our wiring, so it has to be returned for the second time as Raymarine flatly refuse to replace it. So it's off again, winging its way by DHL to the USA, hopefully not again via several other Caribbean Islands, but who knows. I think it must be that funny herbal stuff they smoke out here……..
Our stay on the Island coincided with the Heineken Regatta so we sailed a couple of miles along the coast to a lovely bay at Grand Case and watched the yachts racing past from there. There were also several races around the cans in the bay itself which was great fun to watch and gave us a good day of entertainment. There is also a good snorkelling spot here, at Roche Creole a rocky island just off the coast only inhabited by Pelicans. We left the dinghy on a buoy there and snorkelled along the southern side of the rocky outcrop. Hundreds of different species of fish all co-exist here and the Urchins are the biggest I have ever seen with spikes a few feet long. Thousands of Sergeant Major's swim all around you and follow you about. They are very friendly and not at all disturbed by you swimming through them, they almost touch you when you put a hand out and make you jump when you turn your head around and they are looking into your goggles! We also saw three huge Spotted Eagle Rays but they were quite shy and swam off along the sea bed. We swam here a couple of times a day, eager to see what else was lurking amongst the rocks on every visit. The water unfortunately got cloudier as the days went on, and visibility became very poor by the time we left to return back to Marigot.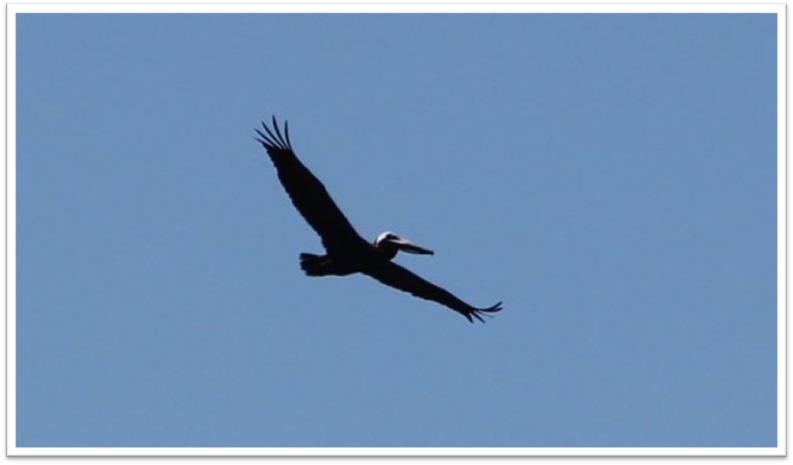 ---