Still at Grenada

Joy
Tue 15 Jul 2014 01:18
I won't dwell on the negatives too long, our watermaker pump arrived onto the Island tonight so we should get delivery Wednesday, Customs permitting. We managed to stretch our tanks to almost a month (thank god the marina close by has showers and a washing machine!) so last week, almost on empty, we had to fill our tanks with water from Secret Harbour Marina. The outboard service kit finally arrived last week and now fixed and operational, we are once again mobile and independent. A very kind couple anchored next to us off Hog Island, Devin and Liz on Moose Tracks, lent us their spare outboard for nearly a week so we could get about. What lovely people.
So now the positives, as things are starting to look up (I know, it's a tough life being a cruiser in the Caribbean, and have I mentioned the 30 degree heat?). We have had such fun over the last few weeks despite being 'stuck' here on the south side of Grenada waiting for parts. There are lots of cruisers here waiting out the hurricane season and as a result there are lots of activities organised.
In between applying the many coats of varnish on the hand rail, companionway steps and dorade vent boxes, we have been introduced to dominoes and even attended a 'dinghy concert'. The dominoes are played on the beach at Hog Island, with Pannikin, Moose Tracks, Barefoot Life and of course Joy. It has certainly got us all hooked on the game, which can get quite competitive at times and I have learnt to be careful who I sit next to because some players are more ruthless than others! The concert was a very bizarre event, held at the next bay around from our anchorage on a barge anchored in the bay. It's a free event held monthly, we took our own beers and tied up to all the other dinghies to listen to an hour or so of local live music. It was a surreal experience jolting back and forth in the swell laying in the bottom of the dinghy, swaying to the music in the sun with a beer!
The dinghy ride to and from the concert was a wet one, mainly because of the 'dinghy wars' between Pannikin and Joy where Mr Slappy rams Baby Joy and showers her occupants with salty spray then roars off and hides behind an anchored boat in wait for the next attack. We will never grow up…….thank god.
We also went to a cooking class held at True Blue Marina, their chefs showed us how to cook a dish of pan fried Mahi Mahi with a traditional Grenadian gravy (actually, we would call it a sauce), and then we all had a small plate full. Delicious! It kept us occupied on what turned out to be one of the rainiest and windiest days we have had here so far.
Jez enjoyed his birthday in June with a bottle of Glenfiddich (cheaper here than at home!) and with a roast beef dinner with our mates Steve and Ange, and of course a choccy pud to go with the whisky, the day was complete.
We often leave the dinghy at Secret Harbour marina and walk to the chandlery and shops, it's about an hours walk each way, up and down dale with quite a bit on unmade roads. The trees and shrubs are in flower with the recent rain and the countryside looks beautiful.
We take a shortcut by the marina over the hill passing by a derelict restaurant or bar, it has the most fantastic views over Mt Hartman Bay where we are anchored so we snuck in and took a look around. The bats weren't too happy about their uninvited guests. Such a waste of what was once a lovely building, it still has a bar at one end although most of the fittings have rotted away amongst the bat droppings.
Can you spot the bats hanging from the rafters?
The road takes you over the headland to Prickly Bay, where there is a killer hill to climb on the way back and when you reach the top you really are at 'Wits End'..
But the views of Prickly Bay are worth it..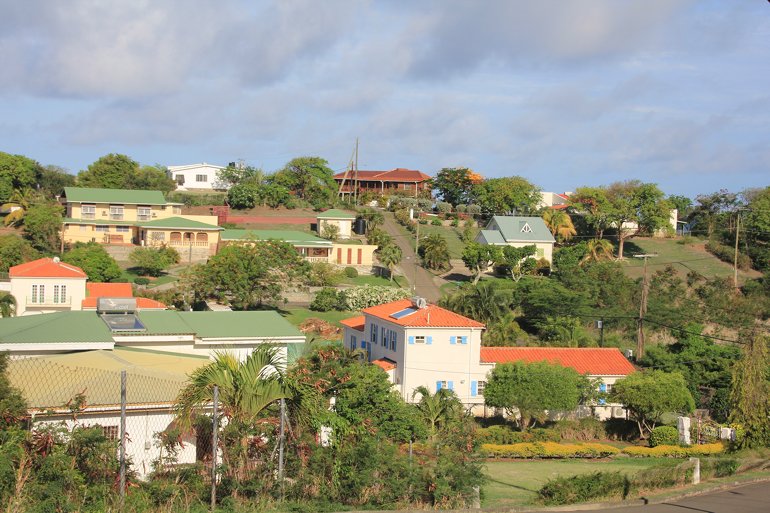 And now for some wildlife..
Jez's quote of the week:
"Not sure how we are going to fit back into the real world. Perhaps this is the real world and it's everybody else that's got it wrong."
---