Tobago Cays 12 38 100N 61 21 700W

Tearing ourselves away from the Grackles, we sailed around the north of Mayreau and in between the reefs at the entrance to the cays. The wind was still blowing a constant 20 knots and when we arrived the cut between Petit Bateau and Petit Rameau looked nice and settled so here we dropped anchor on sand. The colour of the water here is fantastic with every shade of blue and green (the green is the reef), it is hard to believe your eyes.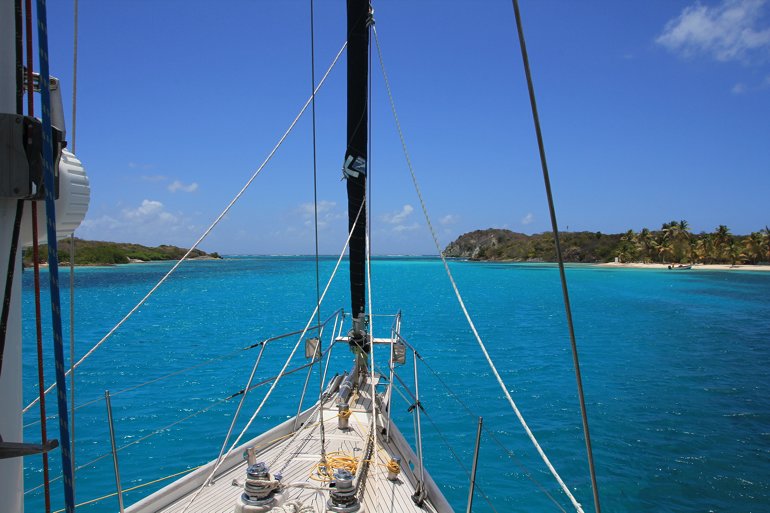 Looking back at Mayreau from the Tobago Cays..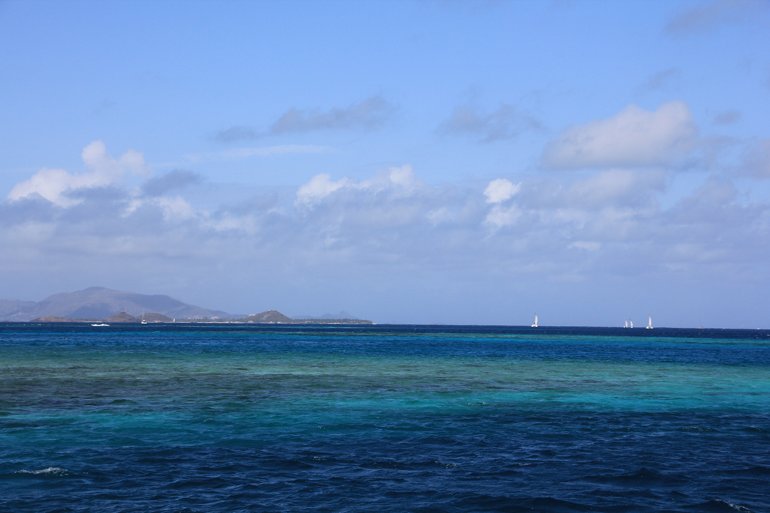 First things first on a hot Caribbean day, swim off the boat. I jumped in first and saw two large spotted eagle rays under the boat so Mum and Jez followed with the Go Pro. We had a great snorkel over the reef in between Joy and the shore.
The night was very peaceful and we decided on a swim in the morning, only to find a strong current ripping through the cut past Joy. Jez spotted a turtle under the bow so we held on to the chain and watched as he munched the seagrass. I returned to get Mum and Jez held on to her tightly as he took her to the bow, the turtle had gone. So he swam with her around the boat and they spotted an enormous Barracuda under the keel, I had to have a look so I joined Jez with the camera and got some footage.
After a walk on Petit Bateau to see the other side of the cays across to Baradel, we decided to stay put anchored in the lee of Petit Bateau as we were far more sheltered than the boats anchored closer to the reef. We took the dinghy around instead and beached it in the turtle watching area for a snorkel. This is an amazing spot, there are dozens of turtles in shallow water and they aren't a bit nervous of you so you can get quite close to observe them.
And then there were the beautiful Trunk Fish with their big 'eyebrows' and snout, blowing the sand looking for munchies..
---