BVI's

Joy
Wed 16 Apr 2014 17:21
Jez and Steven successfully completed their PADI open water diving course, and their last dive off Jos Van Dyke was complemented by dolphins and they had an amazing experience swimming with them for a couple of minutes. We were all rather envious. Both got a great deal on their gear from the dive shop so got fully kitted out too. That night Pannikin hosted the celebrations and we had a few drinks and a meal where we all took a dish, as we were all low on provisions we dug deep and improvised and it was a great success.
The following day we moved along the coast to Little Jos Van Dyke, a small island off the north west tip of JVD, there is another island next to this and a sandy spit called Sandy Cay which looks beautiful. Great holding for the anchor on sand and right next to the reef so we had some great snorkelling and even saw a large sting ray under the boat on a few occasions. Jez and Steve from Pannikin decided on a dive together in between the islands, so I manned the dinghy whilst they had their first dive together.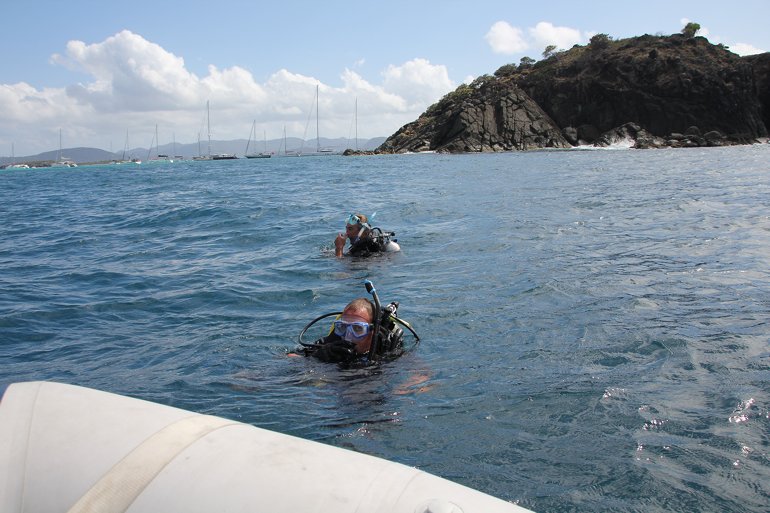 We then had a great sail over to Cane Garden Bay on the north coast of Tortola, only a couple of miles from our last anchorage but with the wind direction we tacked across the channel before sailing into the bay. It is a beautiful bay with the typical Caribbean beach lined with palm trees and a few bars and restaurants on the sand. We found a spot to anchor in sand on the edge of the mooring buoys area and went ashore to meet the 'Amaris' boys and also Dave and Soy from catamaran 'Easy Rider' who had also done the ARC+ crossing with us. Happy Hour with iced buckets full of beer, and Ange appropriately tried a Bushwhacker cocktail which looked like a Maccy D's thick shake.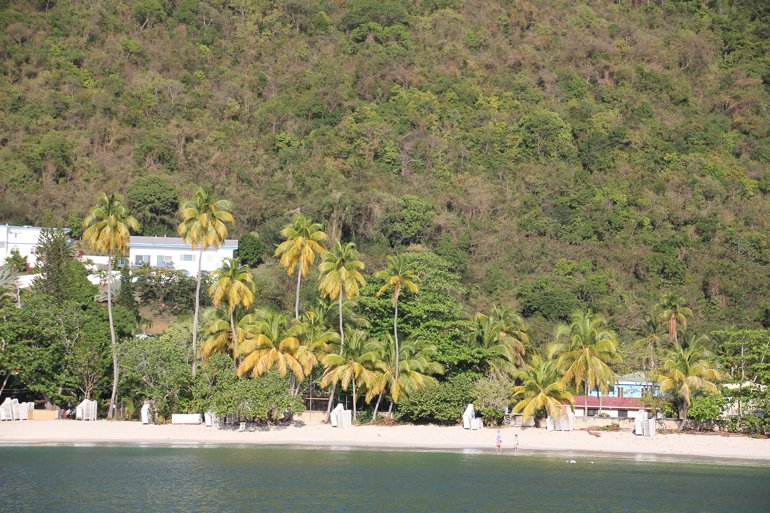 <![if !vml]>
<![endif]>
It was decided that the next day ought to be a fishing day as we were low on meat to eat, so we all went out for a sail on Joy with the rods. We headed just 5 miles north to a group of shallow banks called King Fish Bank and trawled on the way. Not far out of the bay Jez had his first bite and the reel went crazy, something big was taking the line. A fight to get the reel under control, and suddenly a big yank from the fish end and the resistance from the fish went. Thinking he had lost his fish, he continued reeling it in to check he still had his lure and to our amazement there on the end of the lure was the head of a tuna – the body gone and the flesh below the gills in tatters! Something very big had just stolen our catch!! When we reached the bank we tacked across it with a few bites and a few losses, Steve caught a Barracuda which we threw back. We also tried drifting across it with sails furled, no luck. So after a couple of fruitless hours we sailed back towards Cane Garden Bay under just the jib, with a healthy 5 knots speed over ground with such little sail out we had a great sail and caught two good sized Spanish Mackerel on the way. We now had enough fish to feed everyone for the evening and with fish tacos in mind we all met up on Amaris and had a wonderful meal. Fish goes really well in tortilla wraps with all the trimmings (well done Shawn)!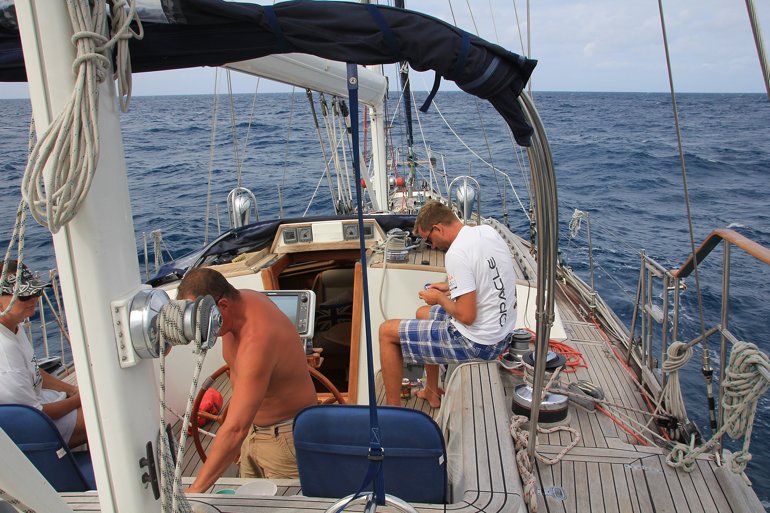 image006.emz
Description: Binary data
---