12 38 800N 61 23 400W Salt Whistle Bay, Mayreau

Joy maintained a speed of 7 knots on the sail down to Mayreau. The first bay you enter is Salt Whistle Bay, an idyllic Caribbean beach which narrows at the north end with another beach on the other side of the spit with crashing waves over the reef.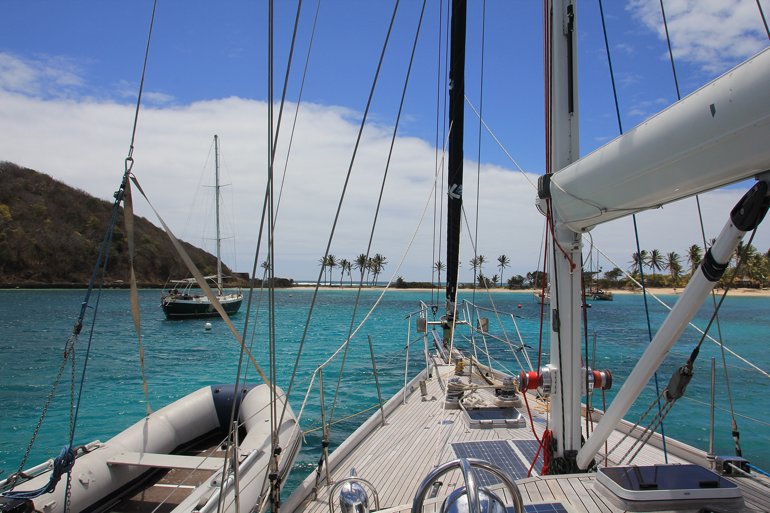 The Chris Doyle cruising guide recommended the restaurant at the Salt Whistle Bay Club, a small development shown above, so we went ashore to the dock on the south end of the beach where we were greeted by Felicia, a very confident 11 year old local girl who wanted us to follow her down the dock to avoid the loose panels of wood and told us to wait for Captain to return (Jez had gone back to Joy to get the dinghy anchor to keep the dinghy away from the dock in the swell). Mum and I obviously ignored her wishes and proceeded down the dock onto the beach, she followed asking if we wanted to eat. We told her we were going to the restaurant at the other end and she said they were closed. We could see lights on there and the sign was even lit up, she said this was security and if we went there we would need to watch out for the thieves on the beach hiding in the trees, and if we went there the police would handcuff us and send us back down the beach to her! We insisted that we would walk down there anyway to have a look, and she begged us not to go as it was dangerous. Mum said what a shame that they have so much crime in such a beautiful place, she replied 'Oh no, there isn't any crime here, just thieves who will break into your boat and smash everything'! She suggested we eat at her shack next to the pier, which by this time was in almost darkness as the light was fading fast. We ignored her warnings and continued down the beach to the restaurant, it was open although not surprisingly there were no customers thanks to Felicia. We mentioned the incident to the lady behind the bar, and she suggested we move our dinghy from the dock and beach it right in front of our table, which we did. The food was ok, no atmosphere due to lack of other customers or music, so we ate and returned to Joy. We had a lovely walk the following day over to the windward beach, with views over to the Tobago Cays. No sign of our fibbing Felicia, although we were asked by a chap in a little booth by the dock if we had some petrol we could give him. The answer was no, we only have enough for ourselves. After a snorkel off the boat we watched a small colourful fishing boat return into the bay and remove probably a hundred conch from their shells, each one taking literally seconds as they had their technique off to a tee. The guy who had previously asked us for petrol motored out to a catamaran next to us, turned away from him he motored towards us then switched his outboard off. Shouting at us that he needed oil as he drifted out to sea, Jez replied we had none spare but offered to tow him back to shore. With a miserable and very unthankful 'no' he continued to drift out towards the fishing boat preparing the conch, my guess is their answer was the same, so he started his engine and motored back in!
We had several visits from some very friendly Grackles, these are quite common birds in the Caribbean and whilst rather boring crow-like birds they have the most beautiful call that sounds like a rusty hinge on an old gate! They were so tame, feeding from our hands and two even pinched my cup of tea sitting on the deck!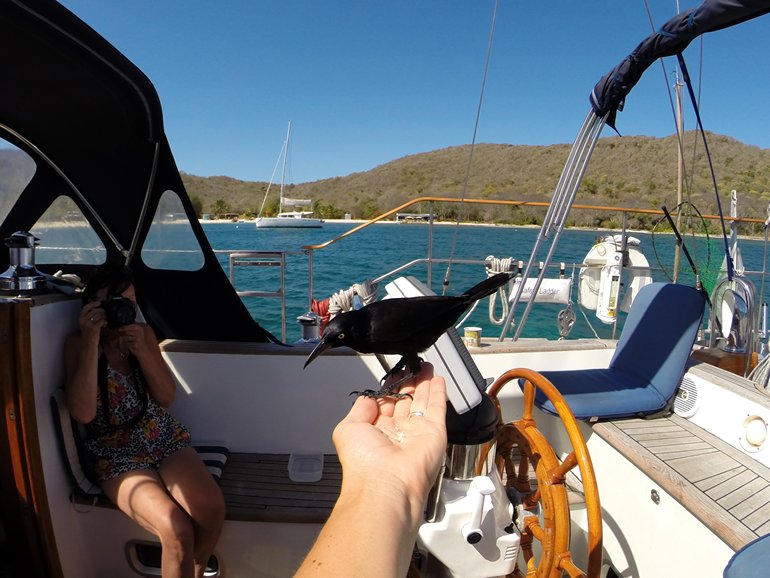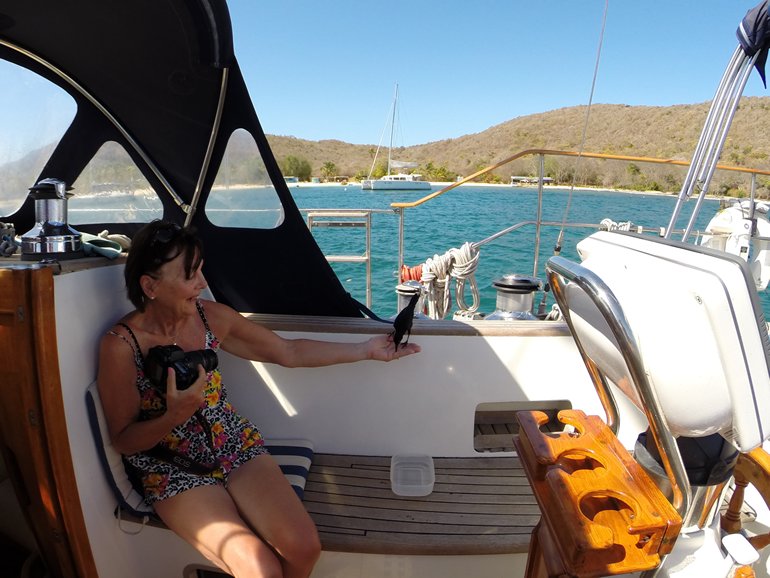 When these birds sing they fluff themselves up and put their wings out as if they are doing a little dance! Magic moments for us (well we are easily pleased I guess). Captain wasn't too pleased with the mess they left behind!
---