14 30 200N 61 05 200W

Joy
Fri 14 Feb 2014 19:04
7/1/14 St Lucia to Martinique
Mum joined us on board at Soufriere and after a very peaceful night on a mooring buoy between The Pitons we made our way up the coast to Anse Le Raye to attend their Fish Friday event. The food was delicious and we were joined for a beer by one of the park rangers that we had met and chatted to a few days earlier at another anchorage. He filled us in on all the local knowledge including the strange fishing techniques we had been watching from the boat, and the terrible storm that happened Christmas Eve which devastated the area and flooded their village. The street soon filled with locals and tourists, slightly unnerving at times with people stopping for a chat and then asking for money (sorry, meant to say beggers – one elderly man with no teeth insisted he was Robert the Bruce and wanted a few coins) - and we saw the man who had insisted on looking after our dinghy when we first arrived wandering up and down the street begging – clearly not looking after our dinghy! It was an experience, but I have to say I was rather relieved to get back to the boat before the 'fun' started.
With a night at Marigot Bay, where we were visited in the bar by a small bird who took rather a liking to Mum's camera on the table, we then continued on to Rodney Bay to check out with customs, and had an afternoon exploring Pigeon Island and the ruined forts, climbing up to the top was tricky in sandals but the views were spectacular. We then discovered a bar and restaurant at the base of the island and enjoyed a well earned Mud Slide (by the way, that's a cocktail, we used the steps on the way down from the fort!) We went back in the evening for a final meal on St Lucia, and were treated to a live Jazz Band, Caribbean style of course.
An early start to refuel and fill up with water, and we had a great lively sail to Martinique, with a large swell we still topped 8.8 knots, woo hoo!
A text the following day from yacht Pannikin informed us that there were turtles to swim with at Grande Anse D'Artlette a mile or so south of where we were, and without hesitation we asked them to save us some and sailed down to meet them. What a beautiful bay, quite busy with anchored and buoyed yachts but understandably so. The water was so clear, and snorkelling was a joy. Steve and Angela swam over to us and we followed them to where the action was - a turtle grazing on the sea bed with a large fish stuck to its back. We hovered above it for ages, watching as it ate the sea grass and then came up to the surface for a few gasps of air. There were also plenty of Lion Fish around and we also saw a sea snake winding its way along the bottom. Fantastic snorkelling, I was pretty worn out when we got back to the boat. We saw turtles on the surface coming up for air all afternoon, magical. The following day we moved around to the next bay, Anse Dufour, again the water was so clear you could see the bottom at 8 metres deep. We dropped anchor and bundled into the dinghy to explore the bay and go to Anse Noir just around the headland as this reportedly has Kingfishers to watch out for. We walked the black sandy beach and when returning around the rocks in the dinghy I spotted two birds sitting on a branch, they looked a little hawk like so we spun around to get a closer look. Luckily Mum had her camera on her, so we snapped away and as one flew to a hole in the rocks and sat looking out we could see the real beauty of the bird, it has a stripey head with black, brown and white patches which makes it look as though it has a hood on. We identified it as American Kestrel when we returned to the boat (Mum bought us a great book on birds of the Eastern Caribbean) and it made up for not seeing a Kingfisher! We had a snorkel off the dinghy close to the rocks, amazed as the thousands of fish here, all different shapes, sizes and colours, some very inquisitive and you could almost touch them. Then we spotted another turtle and I swam to keep up with it, it was heading for Pannikin's anchor buried in the sand. As it circled around the steel loop sticking out of the sand it went in for the kill, clamping his jaw around the metal! It's not easy laughing through your snorkel without choking, luckily Jez had caught up with me and we looked on in amazement as it circled again and went in for another bite. Perhaps it was trying to un-anchor Pannikin, perhaps they were on his favourite grazing patch.
We were reluctant to leave after lunch, what a beautiful spot full of wildlife and clear water, but we had to move on up the coast in readiness for our crossing to Dominica the following day. By late afternoon after a great sail along the coast alongside Pannikin, we anchored off St Pierre, once the capital of Martinique until the volcano destroyed the whole city in 1902, killing all but two residents. The city was rebuilt on old ruins, although looking at the state of the place the buildings haven't been touched since the rebuild and some haven't been finished. We had a stray dog follow us down all the streets, checking out the bins on the way (the dog that is, not us!) as we did a circuit of the town, when we reached the minimarket I told him to 'asseyez vous' and went in to buy some dog food – unfortunately he hadn't understood my French and had disappeared when I returnedL ! So if we run out of food on board, there is a lovely chicken dinner in jelly standing by, mmmmm.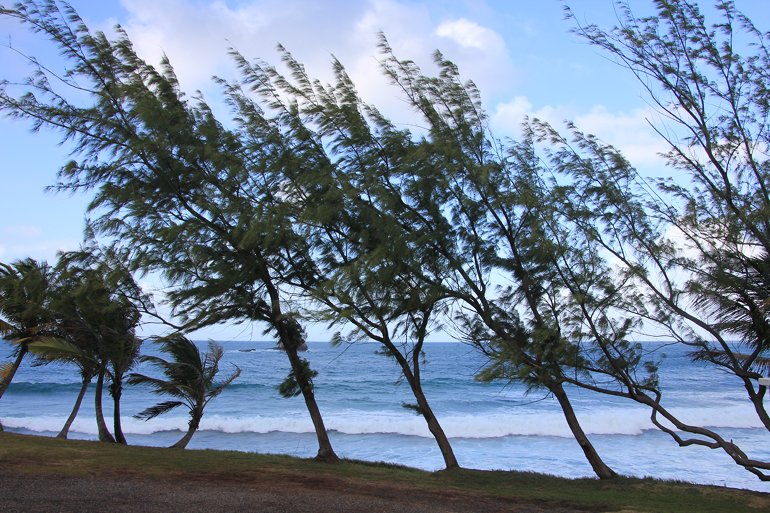 ---