Tobago 11 19 700N 60 33 100W

We finally left Grenada on Sunday morning and after a brief motor sail when a squall passed, we were able to sail across the channel to Carriacou and dropped anchor in Tyrell Bay. This is a beautifully quiet bay with quite a few boats anchored in between the reefs, but it was a good stop for us as they have a customs office here and we were able to check out on Monday morning.
Then a beat against a knot of current up to Union Island gave us a cracking angle to sail down in between Petite Martinique and the north east tip of Carriacou which is surrounded by shallow waters and reef. By this time the current was in our favour and we flew through the passage at 8 knots plus, topping 9.3! Go Joy Go. Once through the narrow channel we were glad to get out in to deeper water where the seas eased a little, and we sailed as close to the wind as Joy allows, keeping our track just north of Tobago. The time by now was 2pm and we calculated we should arrive early morning after sun rise. Despite a heavy swell occasionally slowing us down when a wave broke on our bow, we maintained a reasonable speed of 5's and 6's with 11-15 knots of wind, which was just north of east and this suited us fine as we could pinch as much as we could in case the wind veered as we approached Tobago. It was great to see a sky lit up with billions of stars again, shooting stars burning up and leaving a blazing trail. Night sailing is pretty awesome. So our overnight route took us in an arc curving over Tobago, reducing the main sail and changing the genoa for the jib sail during a shift change at 3.00am as the wind picked up to 20 knots. We then set our course for Charlotteville and headed in as the wind turned more easterly, still sailing close hauled despite having changed course by some 30 degrees.
As we approached the island just after sunrise, we had a cool shower to welcome us in, along with a full rainbow and we were almost at the pot of gold.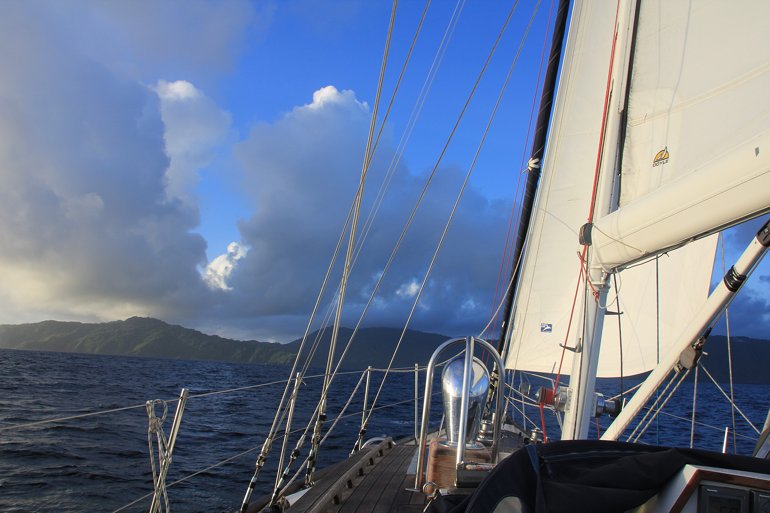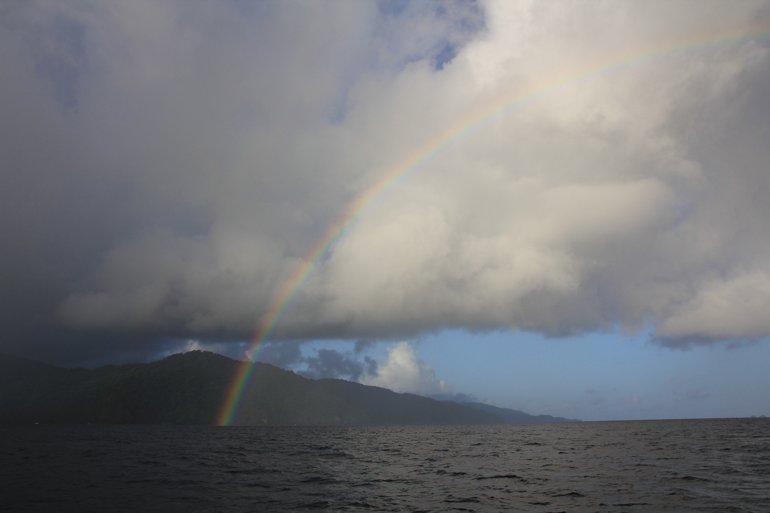 We quietly slipped in to the anchorage at 7am and anchored in quite deep water just outside several other boats – one of which was Pannikin. The town of Charlotteville is a sleepy fishing village, unspoilt by tourism with a very laid back and friendly atmosphere. We caught up with our Aussie mates over lunch, chicken roti and a few beers. Food, drink and fuel are all very cheap here (petrol is 25 pence a litre!!). We all agreed we were definitely in paradise.
The bay is stunning, lush green tropical jungle stretches back into the hills from the shoreline, birds calling continuously from the canopy and at night the fire flies light up the hills just like camera flashes in the darkness.
Love at first sight.
---