Dag 7 - Stillebeltet og stillebeltet

Around the world with Oda 2012 - 2015
Elisabeth Hval & Per Mandt
Mon 17 Dec 2012 21:51
Status mandag 17.12 kl 1930 UTC
04:31.26n
028:31.54w
Kurs 180
Fart 6.6 kn (for motor pga lading for øyeblikket)
Vind 12,5 kn
Retning 129 grad magn - (misvisning 16,1 west)
Avastander i kveld:
Til ekvator 272 mil
Til Fernando de Norohna ytterligere 332 nm
Til Natal ytterligere 207 nm
Vi fryktet vindstille i the doldrums. Det har vi foreløpig ikke fått – derimot har vi fått noen skikkelige squall som vi stort sett har navigert utenom. Vi ser de tydelig på radar om natta og lett om dagen for bare øyet. Det siste squallet vi møtte i ettermiddag nyttet det imidlertid ikke å komme utenom – det var for stort og for en kort stund åpnet himmelen seg og vasket båten. 42 knops vind på det meste, men det gjør jo ikke så mye så lenge vi kun hadde oppe et tredjerev i storseilet. Stort sett har vi rundt 25 knop som er flott seilvind og som gir god fart, men vi er inne i en strøm som gjør at vi mister opp mot 2 knop fart – og den vil nok vare til vi er over ekvator. (Til værgutta – vi er fullstendig klar over at vi kan få alskens vær i stillebeltet – ikke bare stille
)
Fra posisjonen oppgitt over eller som du ser av blogen på mailasail med kart – har i nå bestemt oss for å gå rett syd til vi krysser ekvator på 28:30 w og deretter rett linje til øygruppen Fernando de Norohna og så rett til Natal.
(Dette som opplysninger til våre to værmenn. Vi ønsker nå gribfil hver annen dag for området herfra og helt til Natal og veldig gjerne daglige sms. Om vi bør gå direkte fr 28:30 til Fernando de Norohna eller trekke lenger syd før vi går vestover oversender vi som en utfordring
454
EN FISKEHISTORIE – FOR DE SOM TÅLER STERKE SAKER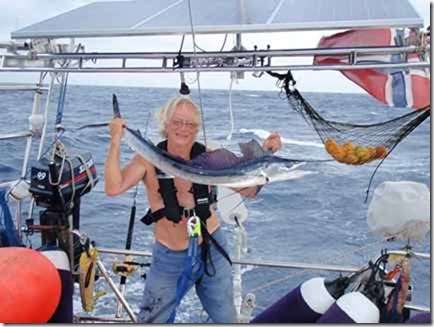 Det er fint med tropiske regnbyger – vi tar gjerne noen til. Det var særdeles flott å få vasket båten etter at kapteinen hadde lurt ut fiskesnøret på slutten av sin vakt og kl 0700 ble vekket av en hylende snelle for n'te gang. Denne gang skulle den tas – den fikk aldri noe slakk på sena, men ble heller ikke winchet inn – resultat en Blue Marlin på 1,5 meter! Wooj – gjett om noen var stolte da den til slutt lå på dekket. Gjett om det også var mye blod etter at den var ferdig sløyet og partert.
Elisabeth hadde klar en spruteflaske m gin – og etter noen sprut inn i gjellene var den ferdig. Nå ligger den skjært opp i passelig stykker i kjøleboksen, mens Finn-Hugo og Mikke forbereder dagens fiskemiddag. Halen henger som trofe i targabøylen og hodet med sverd som en gallionsfigur i baugen av båten. For ikke insidere i fiskeverden så kan det opplyses at Blue Marlin er kongen blant verdens sportsfiskere / Big Game Fishing. De driver riktignok med fisker i 260 kg klassen, men denne var heller ikke å forakte. Det morsomme er at vi etter å ha mistet mange store fisker på den enkle 5.0 kroken som følger med på blekksprutimitasjonen, hadde vi bundet opp nok en stålfortom med en Mustad treblekrok inne i blekksprutimitasjonen – det var denne som satt tvers gjennom sverdet til fisken. Den andre enkeltkroken var ikke kroket noe sted.
I kveld er en tredel av fisken spist – himmelsk!!
---