Fw: At last the west wind does blow

Silver Bear
Ray Lawry
Tue 1 Jun 2010 10:13
----- Original Message -----
Sent: Thursday, May 27, 2010 1:50 PM
Subject: At last the west wind does blow
37:55.0000N 37:56.2220W
Spent a good night surfing waves with following SW wind. Good deal of rain but that matters not, at last we can make some progress eastward to the Azores. The washboards were in and we took a few waves over the side just to make things interesting. The only downside is that with 33 knots of wind the boat is moving around somewhat making it difficult to sleep, particularly in the back cabin which is like trying to sleep on a bobsleigh.
The dolphins continue to pay us regular visits and put on a particularly good show for us yesterday, riding the bow-wave and jumping clean out of the water. There are different species vaying in size and athleticism, but they're certainly very social animals swimming in formation and brushing gently against one another at terrific speeds.
We are now 320 miles from Flores the first Island of the Azores and hope to arrive in two days time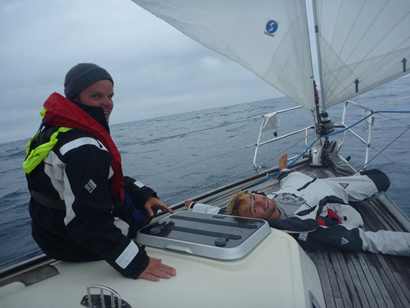 "Is dinner ready?"
Tony steers another straight coarse.
---