Martinique c'est magnifique

Silver Bear
Ray Lawry
Tue 16 Feb 2010 15:51
15:51.91400N 61:35.1950W
In 1804 when Napoleon was trying to take over the world some Jolly Jack bright spark came up with the idea of turning a small lump of rock off the corner of Martinique into HMS Diamond Rock. Nelson's boys turned this small, steep pile of guano covered rock into a fully functioning frigate, canon and all and reeked havoc with the French. So here we are over 200 years later and every Brit yachty passing by dips the ensign in respect (not very respectful to the resident populace!) It has to be said though that the shops are well stocked and it is good to enjoy a few luxuries not readily available elsewhere in the Caribbean. We particularly enjoyed St Anne on the SE corner where we discovered a pretty town that might have been in mainland France had it not been for the temperature. We enjoyed a gorgeous sunset spent in a bar on a pontoon overlooking the bay and Silver Bear lulling in the gentle breeze. Not that I seek to rub it in!
I have never received so many gentle reminders, nudges and worse- intimidation and even threats to remember my wifes birthday and that's without those from her. Anyway girls you can relax now because I'm pleased to tell you Mrs Lawry had a marvellous birthday spent in a very luxurious hotel with exclusive swimming pool and panaramic views of the Atlantic from the hilltop position. We spent 2 lovely days there and came away with an over-riding sense of wellbeing, and in my case chronic indegestion from too much rich food.
We are heading steadily north having stopped briefly in Price Rupert Bay, Dominica and are currently in the French domain of Les Saintes another set of beautiful Islands just south of Guadeloupe. Over the past couple of days we have had a layer of ash settle over everything caused by the recent eruption from Montserrat. We are to far away for this to be a threat, other than the mess it makes! I am told the neighbouring Island had an inch of ash settle there.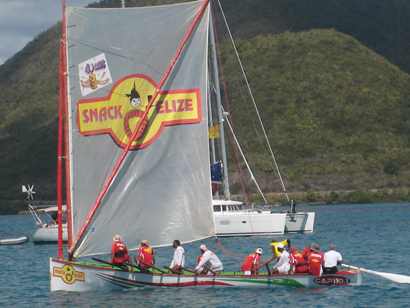 ---