Leaving the BVI's

Silver Bear
Ray Lawry
Mon 3 May 2010 12:47
18:26.7410N 64:31.9340W
Our time in the BVI's is coming to an end. Later today we collect Duncan from Beef Island airport then its a final visit to see Al and the band at the Last Resort restaurant and bar and in the morning we set off for Bermuda, the first leg of the homeward journey. Ash joined us last week and we have been taking another tour of the Islands.
The boulders and caves of The Baths on Virgin Gorda is a popular stop for visitors and certainly makes for an interesting photo opportunity.
Reflected light can play tricks and in this picture the chap with rippling muscles and flat stomach is made to look flabby and out of condition - camaras can distort reality.
Ali just before she was swallowed by a whale.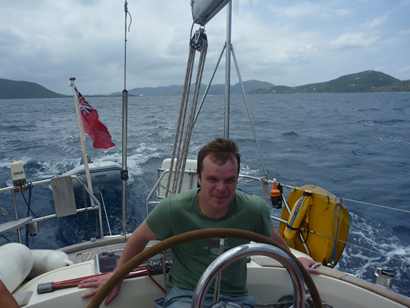 Ash the cabin boy is left to helm - 'Use your hands to steer Ash'
Trying out the new camera after the old one gave up. Too much salt air I think.
Chilled and loose at De Loose Mongoose.
Alan and Tom set off in Starfire at the start of their tranatlantic voyage. Hopefully see you in Bermuda if Duncan ever makes it here!
Have we achieved our mission statement- who cares and what was it anyway!
The best mission statement goes to Ron on Zahara who sought to 'find somewhere where they don't have mission statements'.
---