Tahiti and Moorea

Juffa
Bill and Caroline
Tue 13 Aug 2013 23:00
17:30.21S 149:49.33W

Leaving Apataki, the north pass was bumpy but uneventful and gave the new rudder a short trial before the passage to Tahiti with Aussie friends, Simon and Caroline. The much anticipated sailing started off lively and got rather more lively resulting in slightly poorly crew friends for the 48 hour journey and ships biscuits (in this case cream crackers) were consumed along with Kwells while padding on door frames reduced their bumps and bashes - another of the delights of onboard life. Once in the lee of Tahiti the wind dropped, the swell reduced and permission was granted to pass the end of the runway en route to the anchorage.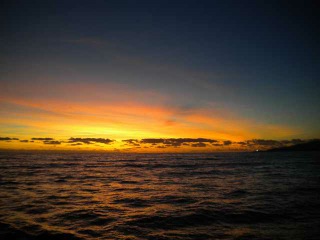 Careful navigation through the reef pass and Tahiti proved to be a culture shock after over 2 months in splendid isolation in the Tuamotus. Dual carriage ways (two lane roads), Carrefour supermarket stocked with unimaginable delights, regular buses, rush hours, market sellers, road side fruit stalls, wifi and recycling bins. Early morning disturbance by a film crew and dozens of 6 man paroa (out-rigger canoes) streamed past racing through the anchorage. Last minute provisions are purchased, again, and Moorea beckons in the distance, 15 miles away.
Anchored in Cook's Bay, Moorea, we reacquaint ourselves with friends met in other places and enjoy the relative quietness after the bustle of Tahiti. The island seems physically so similar to the Marquesas only more upmarket and cosmopolitan with 'high end' resorts, restaurants and boutiques. Now the benefits of our enforced stay in French Polynesia pay off as we are able to negotiate using Franglais to find a plug for the generator and a sack of ice cubes. Luxury.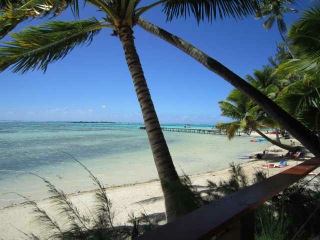 Onward to Huahine's peaceful anchorage and an overnight stop before heading to Bora Bora.
---