Marquesas, island life

Juffa
Bill and Caroline
Mon 29 Apr 2013 19:02
French Polynesian, or more specifically Marquesian life, appears fairly laid back. Friends bought fruit from the farmer who said ... come along later with the money… not something we have experienced for a while. Star fruit, pawpaw, orange water melons and the ubiquitous bananas can be bought at the anchorage dinghy dock or from a jeep in the town but so far vegetables appear a little more elusive. The amazing pampelmousse, coconuts and limes, however, can be picked at the next island, Tahuata, if you can run the gauntlet of the mosquitos and no-see-ems (locally known as nonos). The island's abandoned copra farm (coconut) has accommodation and farming huts left as though the occupants have evaporated. Shoes are left next to a building, bowls and condiments ready to serve another meal and the guitar propped against the side of the sleeping area.


Banks and exchanging money is far less intimidating now with no armed guard to let you in and out, just a very welcome air conditioning unit humming in the back ground and a very friendly man practising his English while we murder the french language.

The volcanic heritage of the islands is evident with the steep slopes giving our legs much needed exercise as we trek the 2 miles to the village and debate whether to replenish our depleted Bonne Maman jam supplies. The views are out of this world, or certainly the world we have seen before.


The latest armada from Galapagos/Mexico has recently arrived with lots of tired and grateful crews anchoring at Hiva Oa to check in to French Polynesia. A very sociable evening was had on Spruce with Andy and Sue hosting the event for much of the anchorage and it appears all crews returned safely to their own boats despite the consumption of large quantities of rum punch. Laundry and provisioning (shopping) are now a highlight after a few days rest. The best use (so far) of the free water at the dinghy dock has been to return our clothes to a state more acceptable with company. The drinking qualities have not yet been tried by us as the brownish soup took a while to clear before laundry could be undertaken. The laundry rinsing equipment (smallish paddling pool) is multipurpose and has been used as a luxurious bath after collecting water in times of deluge.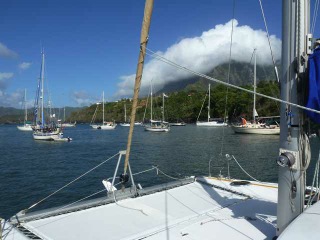 The last known location of Gavin the Gecko, slightly precarious ….

---