St Vincent and Pirates of the Caribbean

Juffa
Bill and Caroline
Fri 13 Apr 2012 20:02
13:14.90N 61:16.50W

We left Bequia after a good night for rain catching (and therefore, later showering opportunities) and headed for St Vincent, the main island, with a gusty wind force 4-5 and made 8+knots all the way. No fish caught, however, despite our concerted efforts and a new reel.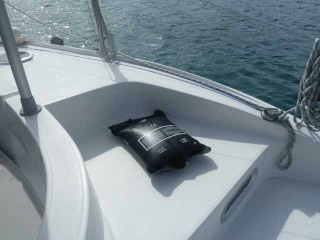 We have picked up a mooring buoy in Wallilabou, and are now waiting for Johnny Depp to appear as we are in the location for Pirates of the Caribbean. I am sure that Hollywood would find a place for us in the making of the Hammock Horror Show. See below... Note innovative use of old trampoline.
Checking out of St Vincent and the Grenadines today and on our way to St Lucia in the morning.
---