Las Perlas, Panama

Juffa
Bill and Caroline
Fri 1 Mar 2013 20:56
08:14.97N 79:06.14W

Leaving Panama for the Isla Las Perlas, the first voyage in the Pacific and the final cruising ground while waiting for the elusive 'good weather window'. Red tides blighted our water making opportunities (algal blooms brought up by the Humboult current) along with thousands of jelly fish and string of pearl stinging eggs, so still no swimming unless wetsuited and wearing socks.
The islands host the holiday homes and weekend resorts of the rich and famous from Panama and consequently can be busy in some places. Dolphins were not put off by the crowded anchorage and porpoised around the wakening boats early one morning. Many of the cruisers here are waiting for the right weather to leave for the Galapagos or Marquesas, some revisiting Panama City to restock up with provisions or more boat spares as the essential boat jobs in exotic places continue with antenna repairs (other antenna this time), winch servicing (don't ask Bill about the important little brass bit which just happened to jump overboard) and the ongoing bottom cleaning (wearing wet suit and socks). Cruisers, or their friends, provide entertainment on boats or in borrowed bars and and attempts to catch up with the internet world are made and fish catches shared at impromptu meals.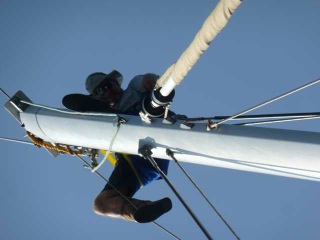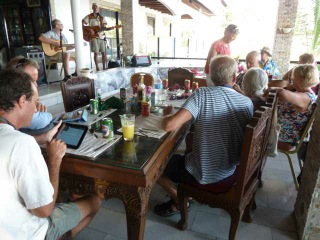 The key points for the islands must be …
Their wildlife, quiet anchorages and unspoilt beaches away from the beaten track.
Ungainly pelicans bombing the water at every turn, lurching away with bills full to digest the fruits of their fishing.
Coconuts which prove to be a strong and powerful opponent which resists (almost) all attempts at capture despite significant and concerted efforts to release them from their trees.
A sudden and real reminder of tides after a year of minimal consideration in the Caribbean. What do you mean there are rocks there now - they weren't there earlier!
---