Martinique

Juffa
Bill and Caroline
Sat 19 May 2012 15:40
14:26.7N 60:54.2W

A fast sail from Rodney Bay, St Lucia to Martinique (averaging 9 knots) where we stocked up on the luxurious french produce. Cheese, salami, wine, cheese...... It is most definitely a department of France - french cars, food, wines, language, systems, procedures, lunch hours (or two) and feels so different to the other windward islands. Far more agriculture, with sheep and cows! The large reef protected anchorage off Le Marin is set up to support yachts, supermarkets alongside the anchorage with dinghy docks where you can leave your trolley as you load your french produce (including meat that isn't chicken wings or pig tails...) into your dinghy. Only one trip was made in a torrential downpour but unfortunately that was the one with the kitchen roll, toilet roll and tissues. Ah well.




The local boats look 'interesting' to sail as the crew sit / hang out on poles to keep the boat upright in the harbour.



We headed back to St Lucia, past the Pitons to Vieux Fort, catching our biggest Mahi Mahi so far as we left the Martinique channel. An impressive 12 meals from the fillets. Also caught our first sight of Caribbean dolphins, at last!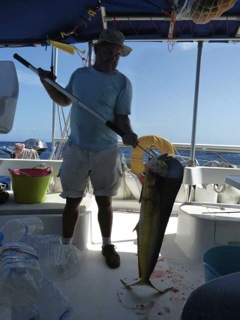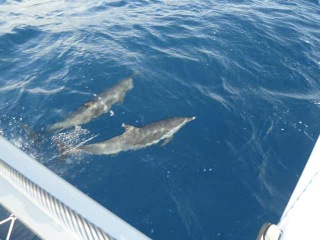 ---