Coffs Harbour still

Juffa
Bill and Caroline
Sat 30 Nov 2013 22:02
Well the list of jobs doesn't seem to be getting shorter but it is changing as jobs get done and others get added. Almost a years cruising in the Pacific and its time to have a sort out - all those 'things' that have been kept 'just in case' are re-examined and only kept if they meet the 'we really need it' criteria. We're making the most of the water and power with the dehumidifier working overtime and plenty of washing and scrubbing inside and out.

Coffs Harbour is a beautiful place with long sandy bays, small islands off shore, rolling waves ideal for surfers, and rainforest and mountains within easy reach. The bikes which have been sadly redundant across the Pacific are now in daily use - fortunately we bought helmets before we were caught and fined! Whether cycling through parks and along the beach boardwalks or walking in the mountains there are thoughtfully placed BBQ areas (complete with electric BBQ, benches and tables, sink and taps for washing and rinsing) toilets, accessible viewing platforms over looking amazing views. So very civilised and much used and appreciated by the locals and us.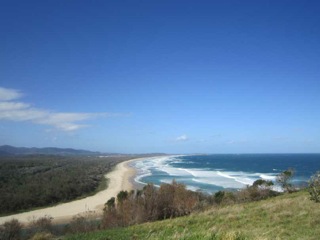 The weather however, could do with turning a little more summery. Being used to more tropical temperatures it is a little shocking to be turning to the jumpers, fleeces and jeans. Hopefully summer will arrive soon.
---