Aruba to Columbia

Juffa
Bill and Caroline
Wed 19 Sep 2012 23:24
11:14.52N 74:13.08W

Finally leaving Aruba's Palm Beach and its inflatable bananas, day sailing tours and 'Mable sofas' towed by speedboats behind us, we headed for Columbia catching a reasonable sized Mahi Mahi just after leaving that fed us for the journey. Good winds and comfortable seas lasted past the rocky Venezuelan islands of Los Monjes de Norte where a pod of 20 or so brown spotted dolphins joined us for several hours and appeared once again as phosphorescent torpedoes alongside us during the night. The mooring ropes that had lain in the Aruban marina for a month took hours of scrubbing on the journey and now look presentable once again.




Sailing goosewinged (with the sails either side of the boat) we approached Columbia's Cabo de la Vela just before dawn. Anchoring amongst fishermen to sleep in the dry and dusty bay where there's apparently significant eco-toursim and good kitesurfing (albeit in an offshore wind direction).




Leaving the following morning before breakfast we headed for Rio Hacha which is known for the views of the Sierra Nevada de Santa Marta mountains, particularly as the sun rises on the only Caribbean summits covered in snow. However, the winds crept up and steep seas meant that the inner passage was at best uncomfortable and it wouldn't be a good overnight stop so we continued overnight on towards Santa Marta, stopping briefly at Ensenada de Cinto - one of 5 bays in a Columbian National Park. This was a cross between a steep sided fjord, tropical rain forest and Caribbean beaches, it was spectacular. In the virtually uninhabited bay and in complete darkness, we slept with bird and jungle sounds competing with the electrical storm over the mountains and the first rain on the boat for some considerable time.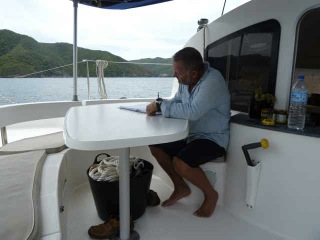 Arriving in Santa Marta in strong afternoon winds we're now waiting for the shipping agent to return with our completed immigration and customs papers and making the most of our time in a marina to do a few jobs and catch up with friends we met in Grenada before we head along the Columbian coast.
---