Island Tour

Juffa
Bill and Caroline
Sun 26 May 2013 22:06
08:57.40S 140:09.40W
Nuku Hiva is said to be the island to visit in the Marquesas. Scenery, waterfalls, archaeological sites and opportunities to see life as it is on the island.
A jeep journey with friends to circumnavigate the island revealed different terrain, rivers to ford, mountains to admire and muddy paths to negotiate and slide down on the main (only) road. The island's tropical climate supports the lush growth of plants with waterfalls plummeting from the peaks. The lush and humid climate also enabled the filling of the water tanks for the first time in weeks as rain catchers were deployed, extended showers were taken in the rain and decks scrubbed during downpours. Very reassuring to now have an excess of water, at least for a while.
Traffic jams are unheard of, only one truck was passed during the 3 hour journey across the northern side of the island. Not that there would have been room to manoeuvre on the single track road and the wild pigs appear to have right of way. The sign on the trees indicates we are on the correct track to the island's airport. Beats the M25, although it still proved to be exhausting.
The anchorage at Daniel's Bay is popular with cruisers and apparently usually has crystal blue water under the towering mountains. We heard that lunch could be provided by a local family (tarrow - similar to yam, fired plantain, roasted and mashed breadfruit alongside goat stewed in coconut milk. The walk around the headland sharpened appetites on the way and the morning's rain percolated down the valley during lunch making the walk back to the anchorage a little more interesting.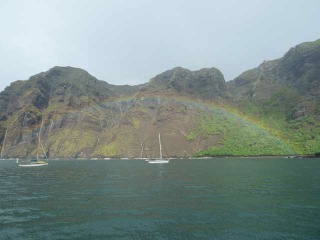 Skills were developed after lunch with coconut husking lessons. We should now be expecting about 500 coconuts per day, which would be an huge increase in productivity from 1 in an hour and a half and much cursing about natural packaging. The tattoos covering half the face of our host are representative of a warrior and have symbolic representation of a hunter combined with a christian cross.
---