To Aruba

Juffa
Bill and Caroline
Fri 6 Jul 2012 16:05
12:30.48N 70:01.87W

Nights at sea with spectacular displays of stars visible.The Southern Cross was located, we think...and more shipping than we have encountered for a while ensured that we didn't doze on watch. A tern joined us for a few hours, leaving at sunrise.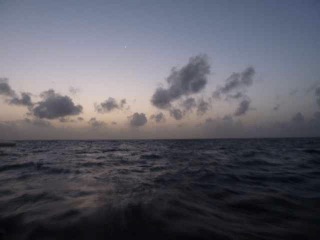 The islands off the Venezuelan coast look idyllic although no time to stop and explore.
Dolphins accompanied us on and off for much of the journey. Some spending a while riding the bow waves while others passed with a cursory glance.
Downwind sailing to Bonaire where we picked up the mooring buoy alongside Kralendijk and went ashore to check in before sunset. Dawn broke with fishermen competing with pelicans for the sardine like bait fish. The pelicans have developed the efficient and effective method of catching fish, waiting until the fisherman's back is turned...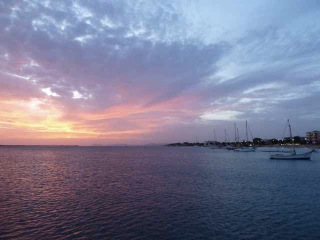 Downwind sailing continued in Force 6 and 7 winds with regular changing/reefing of the sails. Spinnaker, genoa and gennaker were all hoisted and dropped frequently as the winds changed.
Bonaire, Curacao and Aruba are low lying islands with more cacti and shrubby trees than the Windward Islands. Industrial works, with mining and oil refineries along the coasts, and more development in the islands overall give them a totally different feel. There are pavements, street signs, traffic jams, supermarkets with stocked shelves, sun loungers.... even 4G internet available at a price. Papiamento is the local language which is a mixture of Spanish, English, Portuguese, French, African, Arawak and you can regularly hear english phrases on the local radio. Aruba has a reef offshore on the leeward side of the island which leaves a navigable channel between the island and the reef and some anchorages to explore.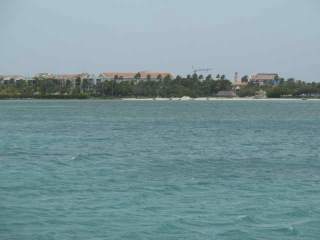 ---