Aruba continued

Juffa
Bill and Caroline
Sun 22 Jul 2012 20:29
12:36.22N 070:03.24W

Short trips around Aruba with Carole, Andrew and Ros on board and an eventful fishing trip with Andrew catching a black finned tuna, called Tommy, which we marinaded for lunch.

'Hi Winds Aruba' took place with competitive windsurfing and kitesurfing near the anchorage.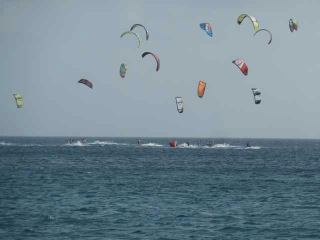 The island is easily explored by car with the north east coast a seemingly different country from the commercial and tourist beaches we've seen on the south and west with cacti, goats, and virtually uninhabited with some great beaches for kitesurfing, beach combing and watching the waves...
The car was put to good use once the decision had been made that the dinghy had finally reached the end of it's useful life. There are only so many times you can wake up to a 'squashed-frog' dinghy without contemplating the need for something a little more reliable. The patches and repairs were holding, but more repairs were becoming necessary on an almost daily basis. So goodbye dink and hello new dinghy. The new dinghy was researched and visited while relationships with the shop owner were developed and finally a decision made to purchase an AB dinghy (the only ones available on the island). Delivery took place at Runway Beach (nice sunsets but not good acoustics), however the davits (lifting points for the dinghy on the back of Juffa) were not in line with the fixed lifting points in the dinghy and lifting it on the back of the boat was going to be a big problem. The good relationships that we had built with the shop owner were fortuitous as we were able to exchange our lightly used new dinghy for one a little bit smaller but more robust, and most importantly one that could be lifted on the davits. Finally sorted.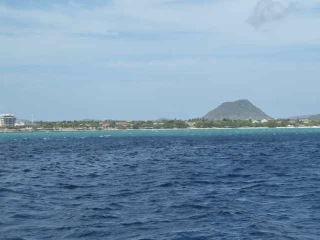 ---