Union Island, St Vincent and the Grenadines

Juffa
Bill and Caroline
Wed 4 Apr 2012 17:40
12:35.02N 61:26.25W




We have now been around Union Island, part of St Vincent and the Grenadines, for about 3 weeks. Bill has been developing his kitesurfing skills near the anchorage which is relatively well protected and has the added benefit of easy rescue when he's further downwind than he'd like...
The anchorage off Frigate Island
Ashton is the closest town to the anchorage which has a certain laid back charm and sometimes has bread for sale. Conch or lambi are obviously eaten in vast quantities. The rubble in the photo is conch shells, and small islands have been built out of the shells off Clifton.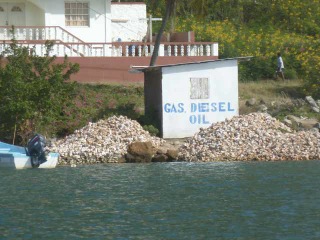 Mangroves are beginning to grow on the abandoned footings for a marina, but a shallow passage way through makes the journey to Clifton much shorter, and less wet.
The lagoon on the way to Clifton, going shopping.
---